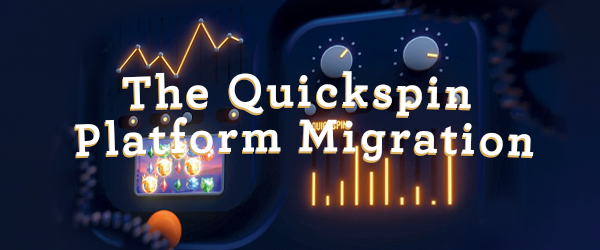 Owning our own platform will give us more flexibility going forward
We will be able to release even more exciting gamification tools in our Quickspin Promote catalogue to help you take care of your full player life cycle. It will take the Quickspin product, our partnership and your casino to the next level. After the transition to our brand-new platform, the support of our content on the relax platform will also gradually be shut down.
We will set up a dedicated channel where all coordination and technical communication will take place. Rest assured, we are more than happy to oblige you with any inquiries or concerns you may have – we are only a phone call away.
The Migration Process
1. Technical Contact – December 2020
In order to make this migration as smooth as possible, we would appreciate getting a technical point of contact for the process of migration as soon as possible. This is the person who will be responsible and in charge of the migration to the Quickspin Platform.
2. Submit new endpoints – January 2021
After sending us your technical contact we will instruct them in how to send us your new endpoints. This is a rather simple process, but needs to be executed correctly to ensure you don't lose any other content from 3rd party providers through Relax.
3. Access to Staging enviroment – January 2021
We will then send you the URL to the staging environment in January, you will have the upcoming weeks to get acquainted with this environment. Along with the URL we will also send you the exact steps to take to take in the staging environment. It is therefore very important that you follow each step in order to go live at the estimated date above.
4. Staging enviroment – January 2021
Before the migration, you will receive details of how to use Quickspin Support system for filing any potential tickets. Your organization will also receive accounts and necessary guidance for using the Quickspin Back Office.
5. Your migration – March to May 2021
The migrations will start in March and we will book you in as soon as you have competed the steps above. We are expecting the migration to be swift, safe and rather effortless work on your end!
Starting from the day of the migration all new transactions will be seen from the new Back Office. To get access to your history you must log in to the old one. We will coordinate the switch of endpoints and configuration update for the production environment. When your migration starts we have already migrated 3 out of 5 datacenters, so you have nothing to worry about!
6. The Quickspin Platform
Following a successful migration means that you are now getting Quickspin games directly from the Quickspin platform.
WELCOME TO QUICKSPIN!
Quickspin takes pride in your safety and you have to be over the age of 18 to play our awesome games. Please verify your age before you enter our site.

Thank you – and remember to play responsibly and have fun!