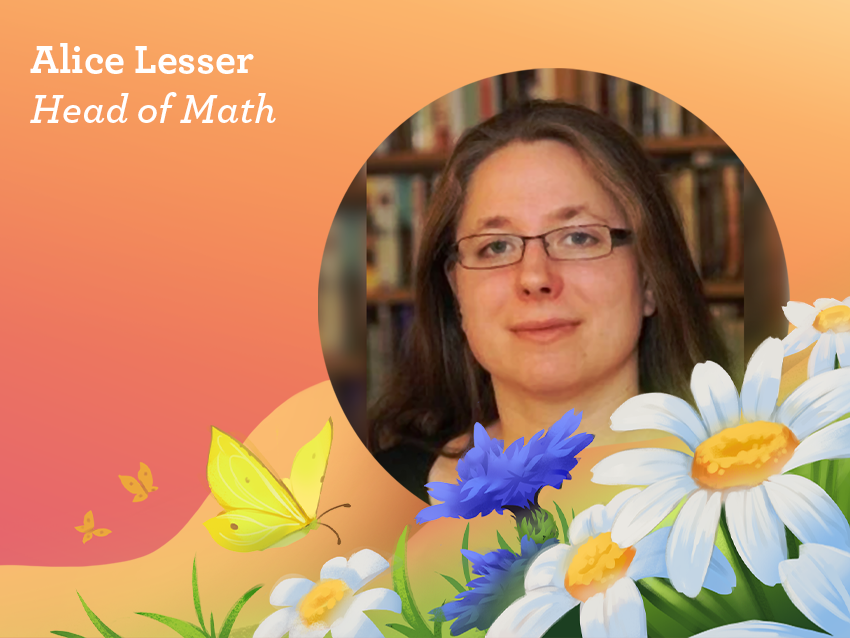 July 17, 2022
Alice Lesser – from Game Math Designer to Head of Math in 6 weeks
Could this be a record-breaking promotion? We sure think so. Alice Lesser joined the Quickspin family as a Game Math Designer in June last year – and became Head of Math only 6 weeks later. We're so proud to have Alice lead our math team and can't wait to see what cool things she and her team will come up with in future games. 
A former math lecturer turned gaming geek, here are some fun facts about Alice: she loves Science Fiction books and she's even slept in Robert Heinlein's bed (in 2006, so not with him in it), she used to be a university lecturer in math so she has mad chalkboard skills and can speak about any topic for exactly 45 minutes. She also loves playing board games, reading, singing, cooking elaborate meals, and hiking up and down mountains (not all at once though, her life isn't a scene from Sound of Music). 
So to start off with, how long have you been working in the gaming industry? 
I'm on my 8th year now. Initially, I learned slot math at NetEnt 6 years ago, and then I did sports betting for two years at Bwin. Before that, I did a PhD in combinatorics and spent a few years in other industries, making mathematical models for everything from nuclear power plants to evolutionary biology to video streaming software. But slot math is by far the most fun job I've ever had! 
You haven't been at Quickspin for long, but you've already done quite a lot. What an impressive pace! 
Yes, I think this might be Quickspin's fastest career progression ever! I signed on as a game math designer in June and was promoted to Head of Math 6 weeks later. And my first task was to recruit two more math designers. I'm so proud and happy that we now have those superstars in our team: Grzegorz Sordyl and Agustina Lopez, who've joined me and Berke Zorlu. 
Together, we have about 25 years of experience in creating slot math and game mechanics. We really enjoy bouncing ideas off each other, and because we're at a company that's so open to innovation, you can expect to see some really cool games in the near future. 
Wow, that's a fast promotion! And you started in the middle of a global pandemic. What was your first impression of Quickspin, and did we live up to your expectations? 
I knew some people at Quickspin before I started here, and they all gave me the same reasons why I should join. The great culture, a fun and playful work environment, and most importantly: the creative freedom to influence what we're doing and how we're doing it. 
So I came in with high expectations, but I have to say that they've been exceeded. Quickspin has a wonderfully talented and diverse group of people, and a structure which has found that sweet spot where there's a clear plan but almost no bureaucracy, so that we can focus on the most important thing of all – making great games! 
What does a normal workday look like for you as Head of Math? 
Besides my management duties of keeping my team happy and being a link to the rest of the company, I still spend a large part of my day designing games. Some of these duties include what you might expect from math work, like sitting on my own, balancing the numbers in a game to get a nice distribution of wins or programming a new feature in our framework.  
But perhaps more surprising, for a math job, is how much of my day is collaborative. This includes having discussions with our artists and producers on how the audio and visuals can highlight the features of the game. "Is purple more valuable than green?", "Does that dragon look like something that would give you money, or take it away?", "Will the player understand that a shotgun increases all the wins?", "No, this one goes woosh and that one goes ka-ching", "Does it really make sense to have cash in this post-apocalyptic world?". And explaining that, unfortunately, you can't have a game that pays out a hundred times your bet every tenth spin. And we also play a lot of slot games! 
What's most fun about leading the math team at Quickspin? 
The best part of being Head of Math at Quickspin is that I have such an awesome, talented, and dedicated team. 
Do you have a favourite Quickspin game? 
I would have to say Cash Truck! 
What do you look forward to most in 2022? 
I'm really looking forward to seeing what we can build together as a team, as we're just getting started with new people and new ways of working together. And with all the restrictions lifting in Sweden, we'll be able to meet in person more often! Brainstorming new game concepts is much more fun around a whiteboard, or at the pub, than over video calls. 
Travis Grabau, VP of Game Studio: "We're so proud to have Alice lead our math team as Head of Math. We know a superstar when we see one, so promoting her after only a few weeks was a no-brainer. With her background as a math lecturer and her many years in the gaming industry, Alice is extremely skilled and talented, in addition to being a great leader. We're very lucky to have her in the Quickspin family!"