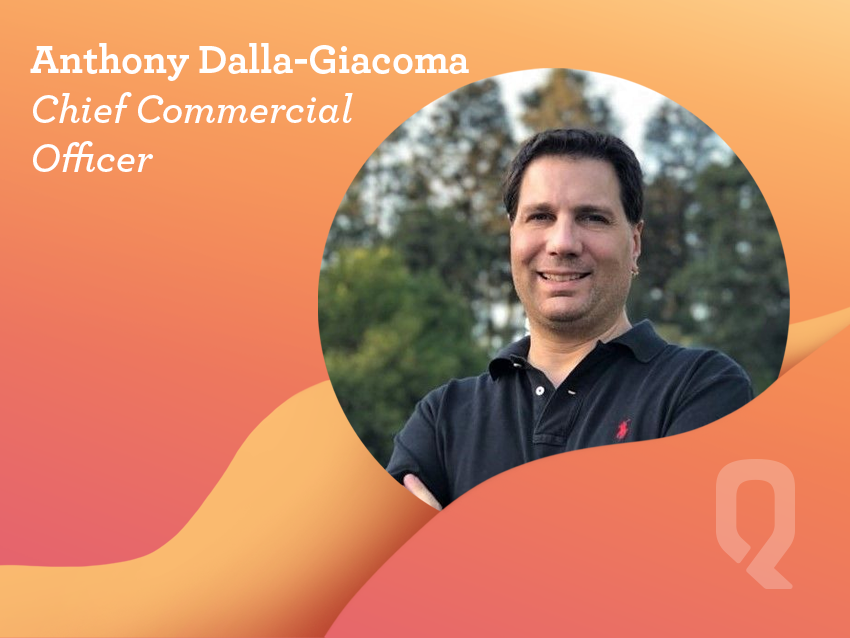 February 10, 2022
Anthony Dalla-Giacoma promoted to Chief Commercial Officer
Great news! We're always extremely happy when members of the Quickspin family grow and develop into new roles within the organisation. This time it's Anthony Dalla-Giacoma, who has been promoted from Head of Account Management to Chief Commercial Officer.
Since starting at Quickspin just over a year ago, Anthony has proven himself over and over and we're delighted to see him move into this new role where he'll be taking on even more responsibility. 
During his career, Anthony has always worked in commercial positions, primarily in Account Management but also as a business developer and a market-entry expert. After spending the first 10 years of his career in the IT industry and mainly in the UK, where he worked with leading research and consulting firm Gartner, he transitioned into gaming in 2013 when he joined NetEnt in their Malta office.  
Tell us about your first year at Quickspin? 
It's been a fantastic year. When I started working as Head of Account Management a year ago, our focus was on completing the migration of our client base from Relax onto our own platform. It was an intense and productive time as we managed to complete the project and migrate all of our clients swiftly and successfully, while also launching twice as many titles as the previous year, and we kept up with the re-regulations in Germany and the Netherlands. We even acquired our ISO certification along the way! And then we finished the year with a bang, helped by the launch of Big Bad Wolf Megaways in September. 
Keeping in mind that Covid prevented us from meeting our colleagues and customers in person for most of the year, these are amazing results and a great demonstration of the passion and professionalism of the entire organisation. 
I've been very lucky throughout my career to work for some fantastic companies, and I was thrilled to find such great people and such a brilliant company culture here at Quickspin. 
What are your hopes and expectations for 2022? 
The ISO certification and developing our own platform in 2021 were two significant game changers, which will open up huge opportunities in 2022 and beyond. Controlling our platform means we have control over our destiny in terms of market entries, and we'll be able to support new and existing partners across even more markets as well as enter new and exciting regions. 
We've already started the year full throttle with our January release Cash Truck, and we've got a total of 18 exciting releases. A significant part of our long-term strategy is entering new markets, so that's going to be a big focus this year thanks to the ISO certification.  
We're proud to be present in several large markets with tough regulations, including Italy, Germany, and the Netherlands. And last year we adapted our offering to suit the re-regulations in the latter two markets, which was a great achievement. This year, we'll keep accelerating our planned market entries and re-entries, including Ontario, Greece, Switzerland, and more.  
With a growing commercial team and a robust game roadmap, backed by an ambitious marketing plan, we want to be more visible and further cement our position as a premium brand. 
What are your expectations for your new role? 
My short-term objective is to build on our on-going success with our existing partners by working more closely with them, and to keep expanding across regulated markets. 
Which game is your favourite on the roadmap for 2022? 
It's impossible to pick one! Our producers have an "all bangers no fillers" approach to the way they produce games, which is fantastic, but it also makes it difficult to choose one.  
Warp Wreckers (February) and High Street Heist (March) are already available in Play for Fun in our Client Area. We're also fortunate to have several strong IPs that will get sequels and Megaways editions, like Sakura Fortune 2 and Eastern Emeralds Megaways. There's a lot to look forward to! 
Daniel Lindberg, Quickspin CEO: "I couldn't be happier to see Anthony being promoted to Chief Commercial Officer. Such a rapid promotion is evidence of his hard work and the amazing results he's achieved in the last year. It's also a great testament to our vision and strategy of promoting and developing our employees, always encouraging and allowing them to expand their skills and take on more responsibility." 
Sandra Lindberg, Chief People Officer: "Growing and developing within the organisation has been a part of our DNA since day one, and we're always creating opportunities for our employees to take on new challenges. Inclusivity is the foundation of our on-going strategy, which highlights the importance for our colleagues to grow into new roles and makes it natural for them to do so. In a short period of time, Anthony has gone above and beyond, demonstrating his capacity for taking on more responsibility whilst simultaneously earning great trust in his leadership skills. I'm very happy to see him move into his new role as Chief Commercial Officer."