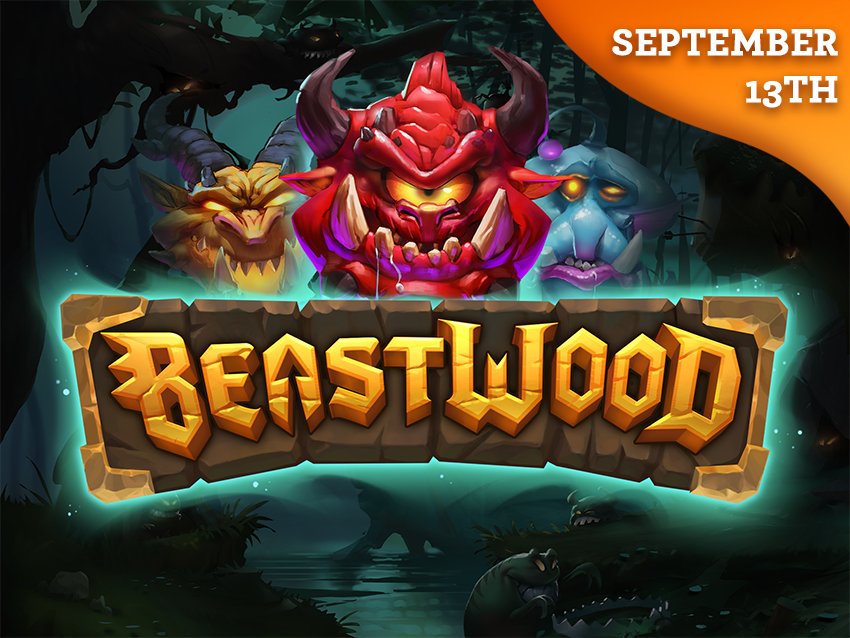 July 21, 2022
Beastwood – a Ways game with Expanding Ways and a max exposure of 29,000x!
Beastwood is an exciting Ways game that introduces a new original IP: Mr Beastwood! We're planning on making this a recurring character with sequels to follow, building a new product line on a new-to-us game mechanic. 
It's a Ways game with 1 quintillion ways and exponential multiplier growth, all packaged up in gorgeous graphics with monsters and beasts. With its high production value and beautiful woodland theme, it's the perfect game to kick off the autumn season for players. 
Beastwood is 4 reels high and boasts high volatility, a max exposure of 29,000x, a Buy feature, Expanding Ways that can grow forever (a grid that grows with each win), Symbol Win Multipliers that multiply your win if you hit two or more of the same symbol, Reel Multipliers that double your win, plus an exciting Free Spins Bonus where the multipliers really start to pay off! 
Built with fan-favourite mechanics from 2017's Wins of Fortune, including features from 2019's Wild Chase: Tokyo Go, Beastwood promises to be an immediate cult classic. 
This game is ideal for gamblers and entertainment players who are looking for big wins and big production games. The intended markets are the EU, Scandinavia, Russia, and the UK. 
There are three well-engineered RTP models: 87%, 94%, and 96%, which lets you keep healthy margins in any market. 
Story behind the game 
Clint Andersson, Producer: "We set out to create a new mechanic for Quickspin, so we wanted a new IP to shoulder this. Since the game math focuses on locking symbols in long chains of ways, we came up with the idea that the protagonist could use a big harpoon with a gold chain to trap the monster symbols on the reels, which worked out really well. The game mechanics and the theme work beautifully together. 
Then came the setting for all this action, and after some extensive research, we concluded that monsters usually live in the woods. That in turn helped us come up with the name of this game: monsters plus the woods equals 'Beastwood'. And that became a spectacular name for the protagonist of our new IP, Mr Beastwood!" 
Features 
Symbol Win Multipliers 
Each win is awarded a multiplier of x1 to begin with. The Symbol Win Multiplier can be increased by the Reel Multipliers, and if multiple copies of a symbol land on a reel and they're part of a win. 
Whenever a new multiplier is won, it multiplies the existing Symbol Win Multiplier. Each symbol has one pay table entry. The win amount awarded for each win at the end of a spin is the pay table entry for the symbol, multiplied by the respective Symbol Win Multiplier. 
Ways 
A win consists of a chain of at least 3 reels that contain the same symbol type, starting with the first reel. 
Expanding Ways 
The game starts off with 3 reels. If there are any wins, an extra reel is awarded on the right-hand side of the reels. Whenever an extra reel extends any existing win, another extra reel is awarded. 
Reel Multipliers 
During the base game and starting from reel number 5, every third reel has a Reel Multiplier. These Reel Multipliers have a x2 multiplier attached to them. Whenever a win has a reel with a Reel Multiplier as part of it, the multiplier is applied to the win. 
Free Spins Bonus 
In the base game, landing 4 or more Bonus symbols anywhere on the screen will award free spins. When you get 4 Bonus symbols, 10 free spins are awarded. Any additional Bonus symbols will award +3 free spins. 
During the Free Spins Bonus and starting from reel number 4, every reel has a Reel Multiplier. Each Bonus symbol that lands on the reels during the bonus game will award +1 free spin.