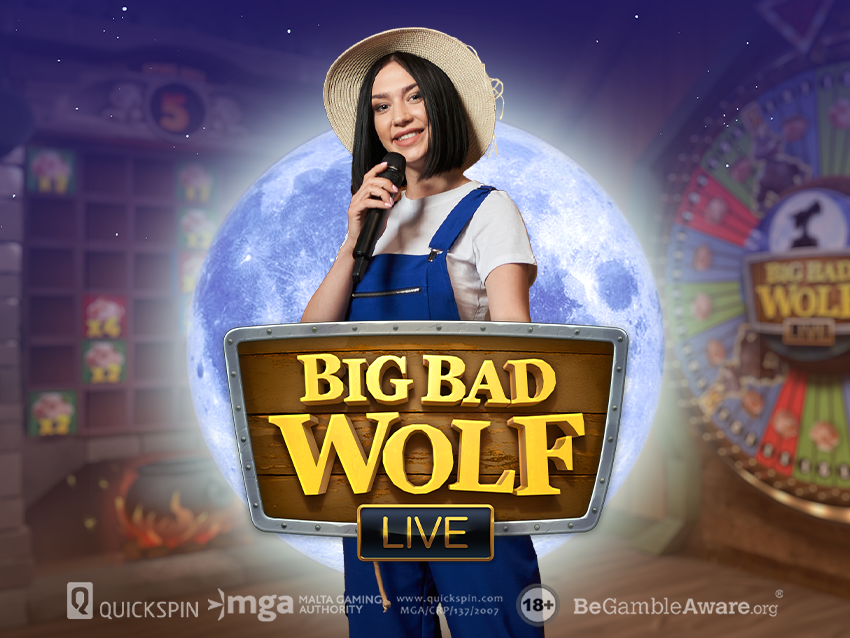 July 31, 2023
Big Bad Wolf Live: Quickspin Stirs the Waters of Live Casino Gaming in collaboration with Playtech
We at Quickspin are immensely proud to announce that we have entered the live casino space with the launch of Quickspin Live, an innovative product vertical set to transform the player experience. Developed in collaboration with Playtech, Quickspin Live showcases cutting-edge technology and unrivalled entertainment that will captivate the next generation of players.
At Quickspin, we constantly explore new ways to create innovative products and reach new markets. The launch of Big Bad Wolf Live for our latest product vertical is the perfect opportunity to bring our world-class gaming experience to the live casino space. With cutting-edge technology from the Playtech group at our disposal, we're poised to revolutionise how players experience live casino gaming.
Panagiotis Chryssovitsanos, CEO, Quickspin: "Quickspin was founded with the vision to deliver thrilling gaming experiences with our own blend of high-quality production value, creativity and love. As the industry and player base evolve, we recognise the importance of catering to the generation that grew up playing games as a social activity on arcade machines, consoles, mobile and computers. With Quickspin Live, we have the opportunity to engage directly with these players and evolve the live casino gaming landscape. We are also fortunate enough to have Playtech as our partner, providing us with market-leading technology and expertise, enabling us to turn our dreams into reality."
Edo Haitin, CEO of Playtech Live: "The launch of Big Bad Wolf Live marks the exciting beginning of Quickspin Live path in the Live space. The innovative approach we are taking for the Quickspin Live games demonstrates well the advanced Playtech Live platform and Quickspin's exceptional creativity. The game is truly an immersive RNG & Live experience, setting the bar higher for the industry; the outstanding attention to detail in the studio and entertaining gameplay combined with breathtaking art, first-of-its-kind features and Quickspin's signature high quality. With this new exciting collaboration, we will redefine the boundaries of live casino gaming and set new industry standards."
Big Bad Wolf Live
Quickspin Live's flagship game, Big Bad Wolf Live, promises to exceed all expectations. Big Bad Wolf Live immerses players in an unparalleled gaming adventure by merging state-of-the-art technology with one of our most beloved IPs. As a unique feature exclusive to the live space, we introduce the Buy Feature, allowing players to enter the communal Live Bonus Game by paying 40 times their bet.
In addition to the Buy Feature, Big Bad Wolf Live boasts a range of unique key features. The Top Up Game, a simple 3-reel, 1-line game, offers players the chance to boost their winnings while awaiting the Wolf Bonus game. Furthermore, the Multiplier Collect game within the Live Bonus game rewards players with bet multipliers, heightening the excitement and potential rewards.
Quickspin Live's first game is set to launch through the Playtech Live platform, ensuring easy accessibility for operators already integrated with Playtech Live.
—
About Quickspin
Quickspin is a Swedish game studio developing innovative video slots for real money online gambling. The aim of our 100-strong team of gaming industry veterans is to cause a market-changing shift in quality and innovation by creating the kind of games that we as players would love to play. Quickspin games are integrated with our customers' casino through our own platform which includes ground-breaking promotional tools to help attract and retain players.
—
About Playtech 
Founded in 1999 and premium listed on the Main Market of the London Stock Exchange, Playtech is a market leader in the gambling and financial trading industries with c.6,600 employees across 26 countries.
Playtech is the gambling industry's leading technology company delivering business intelligence driven gambling software, services, content and platform technology across the industry's most popular product verticals, including, casino, live casino, sports betting, virtual sports, bingo and poker. It is the pioneer of omni-channel gambling technology through its integrated platform technology, Playtech ONE. Playtech ONE delivers data driven marketing expertise, single wallet functionality, CRM and responsible gambling solutions across one single platform across product verticals and across retail and online.
Playtech partners with and invests in the leading brands in regulated and newly regulated markets to deliver its data driven gambling technology across the retail and online value chain. Playtech provides its technology on a B2B basis to the industry's leading retail and online operators, land-based casino groups and government sponsored entities such as lotteries. Playtech directly owns and operates Snaitech, the leading sports betting and gaming company in online and retail in Italy.