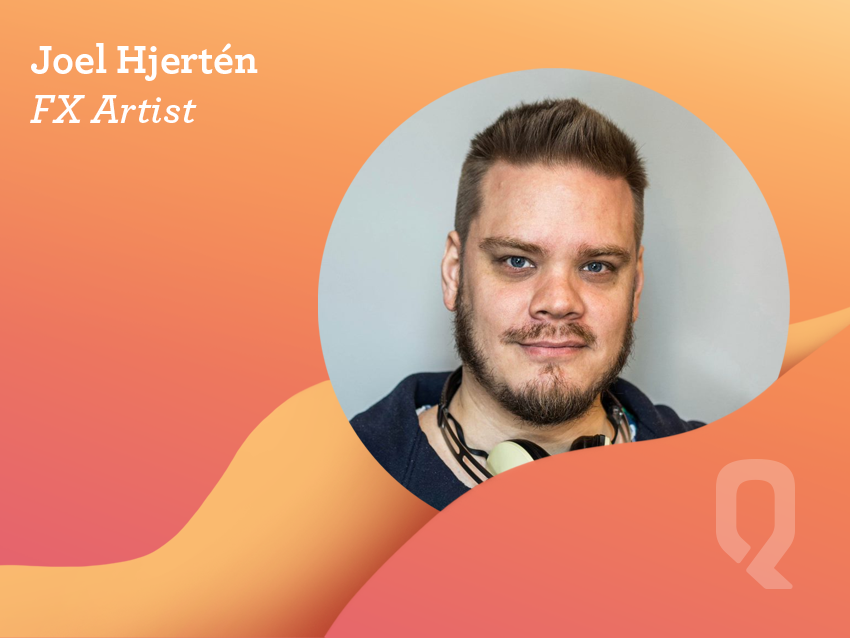 February 7, 2022
Celebrating Joel Hjertén's 10-year anniversary at Quickspin!
Today we'd like to bring you an interview with a true Quickspin veteran, our fantastic FX Artist Joel Hjertén, who has been with us for as long as we've existed: 10 years!  
As a highly regarded member of the Quickspin family, Joel recently received our prestigious 'Always Strive to Improve' award, he can solve any technical challenge we throw at him, and he's always there to help and inspire other people. 
So, you've been a member of the Quickspin family for a whopping 10 years this month! How has your role developed during your time here? 
My role has largely remained the same, but I've grown into taking on more of a mentor role at times, as I love introducing new co-workers to how we work and get them up to speed.  
And this December, you won our prestigious 'Always Strive to Improve' award. Congrats, very well deserved! What inspires you to strive to improve every day, and to help and inspire others to do the same? 
I think I just love to explore new things and push boundaries, it's in my blood. As for helping and teaching others, the answer is quite simple. There have been many times when I've struggled to learn something new, and it's often due to a lack of good tutorials, or that they explain things poorly. 
It's true what they say: being a master at something doesn't necessarily make you a good teacher. So above all, I wish to be a good teacher and help as much as I can, as I know from experience what it's like to struggle to learn those things. 
That's great, and we're lucky to have you. As an FX Artist, which Quickspin game is your favourite? 
In slot games, I tend to focus on the aesthetic side, for natural reasons. Some of my favourite games are Big Bad Wolf Megareels, Hammer of Vulcan, Wild Cauldron, Arcane Gems, and our upcoming release Warp Wreckers Power Glyph™. All of which I worked on, and there were many technical challenges to solve to make these games look and play as well as they do. 
Which Quickspin game has been most challenging to work on, from a graphic perspective? 
Definitely Arcane Gems, as it's one of few games we've made in full 3D. Most of our games run directly in a browser rather than an app, but the existing tools and web standards are still lacking to make these types of games run smoothly, so that's been my biggest technical challenge.  
It was difficult to create good looking 3D gems and gold items that work from multiple camera angles, and the VFX was especially challenging due to the previously mentioned limitations. I'm really pleased with the result though, and we managed to pull it off in the end. 
What are you looking forward to in your Quickspin journey for the coming years? 
I really enjoy seeing the evolution of technology and techniques being applied to make new games look great. I always look forward to testing out new technical ideas in every new game I work on. And our company trips – I always look forward to our next trip together. 
Yes, the company trips are truly special! What would you say is the best thing about working at Quickspin?  
I think the best thing about Quickspin is the company culture and all the co-workers. It's a very friendly and kind workplace. It's a business, but there's a genuine care for people, both from your colleagues and from management. 
We couldn't agree more. And finally, do you have a favourite moment from your 10 years here that you'd like to share? 
I don't have a specific favourite moment from my time here, but I've greatly enjoyed every single company trip that we've done over the years. Las Vegas, Nice, Åre, and so on – they've been amazingly fun! 
Daniel Lindberg, Quickspin CEO: "It's an honour and a privilege to have an employee stay with you for such a long period of time, and a great testament to Quickspin as an employee. Joel is a fantastic member of the Quickspin family and a great asset to our team. Thank you for these 10 years Joel, and I hope you'll stay with us for at least 10 more."