September 11, 2020
Get to know our Cluster Games
Quickspin has created three Cluster Games the past year, all lead by our talented producer Clint Andersson. All three has been very successful releases for us and we are very happy that we can boast about these crowd-pleasers are part of our Quickspin Portfolio.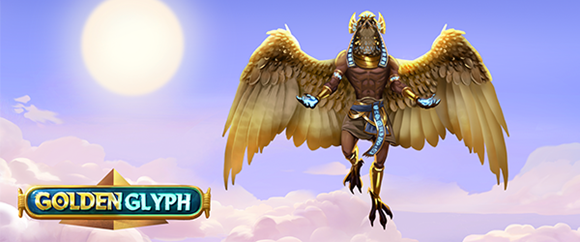 Golden Glyph
Our first cluster game ever was released in November 2019 Golden Glyph, is our first instalment of the Glyph series. This stunning and feature-rich slot boasts a 7×7 layout and successful game mechanics that is ideal for players on the go who like their games with a hint of mysticism.
In this game, you will escape the cold and embark on an epic adventure in the land of the Pharaohs. Channel your inner Indiana Jones in ancient Egypt, spin the reels, wait for the dust to settle, and let the hieroglyphs reveal your fortune. Keep an eye out for the special Golden Glyph Wild symbol in the Free Spins Bonus – this symbol holds all the keys to a BIG win. If you're lucky, you can win up to 13,000x!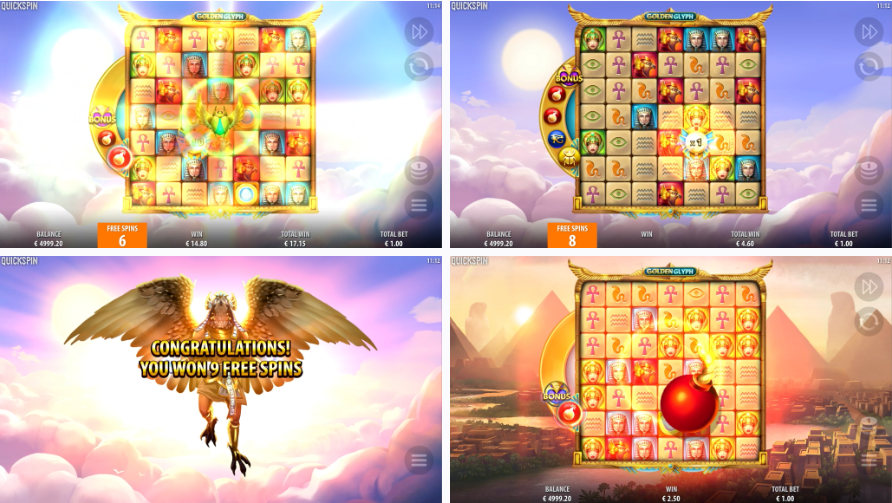 Clint Andersson, Producer: "When we started working on Golden Glyph, we wanted to create a game that felt like a classic puzzle or tile-matching game, like 'Puyo Puyo' and 'Bomberman: Panic Bomber'. We also wanted to combine the characteristics of these types of games with the power-up features of classic RPG games, like 'Golden Axe' or 'Gauntlet', where you get to collect and use power-ups to perform magic.
When designing the graphics the idea was to use small, detailed icons with shields, swords, and armor equipment, but it was a bit tricky to build a menu that could fit all the different icons. Then, during one of the many design iterations, our Lead Artist came up with the idea that the meter should be round.
This can be quite a difficult format to use in menus, as games are always played on a rectangular screen. But everyone on the team really loved the new meter, so we tried to figure out a way to make it work. That's when we came up with this large, heavy golden wheel that's filled with mystical and magical symbols – and this is now one of the best parts of the game. I'm really happy with the result and I think it looks great!"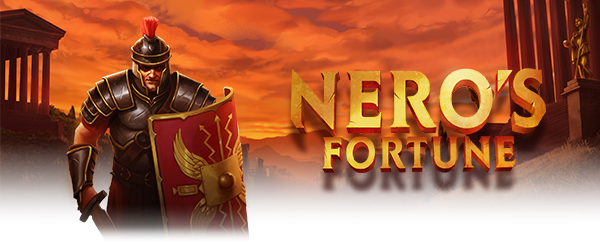 Nero's Fortune
In April earlier this year, we released Nero's Fortune. A game which has been extremely popular, mainly due to us nailing the math on this release. For this 5×5 slot, you embark on a trip to ancient Rome.
This game is set against a backdrop of magnificent architecture and a dramatic sky, making the most out of our new 3D engine, these drool-worthy graphics takes lighting and rendering to a whole new level. This game boasts tumble mechanics with cluster wins, accumulating multipliers, and a Free Spins bonus – plus a chance to win 8,100x!


Clint Andersson, Producer: "We've listened to our players and we wanted to satisfy their – and our own – hunger for innovation and volatile gameplay. That's why we've created Nero's Fortune with a set of completely new tools, to design a game that presents 3D graphics in a fresh way, whilst at the same time being a cluster game that focuses more on bigger wins (rather than lots of small ones).
We've created a game that ties the gameplay together with the overall mood and feeling, so you can really feel how the reels begin to tremble and tear apart as you start hitting it big. This fits well with the story, as this game is set in ancient Rome under the rule of Emperor Nero.
According to history, Emperor Nero was finally overthrown after the 'Great Fire of Rome'. So we wanted to give players exactly that – a feeling of victory after defeating the game with all the heavy-hitting wins.
We're confident that players will love the volatile gameplay and 3D-rendered graphics. It's the darkest theme we've ever used, and we've also added lots of new details to give our players the most immersive and satisfying experience possible – no matter which platform or market they might use."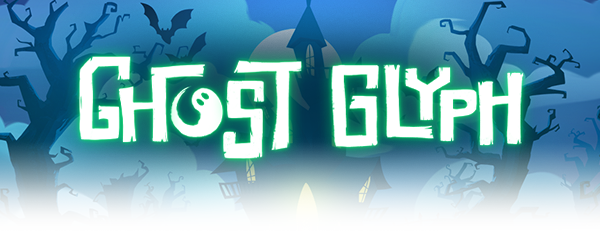 Ghost Glyph
Ghost Glyph was released on September 8th and has so far been very well received by our customers and the twitch community. We have designed this charming and color packed game, a 7×7, cluster-pay slot with tons of exciting features. It's well-balanced with medium volatility, a 31% hit rate in the base game and you can win up to 2,200x. The game design in Ghost Glyph is based some of the successful mechanics of Golden Glyph, but we also tweaked a few things to give you an even better experience!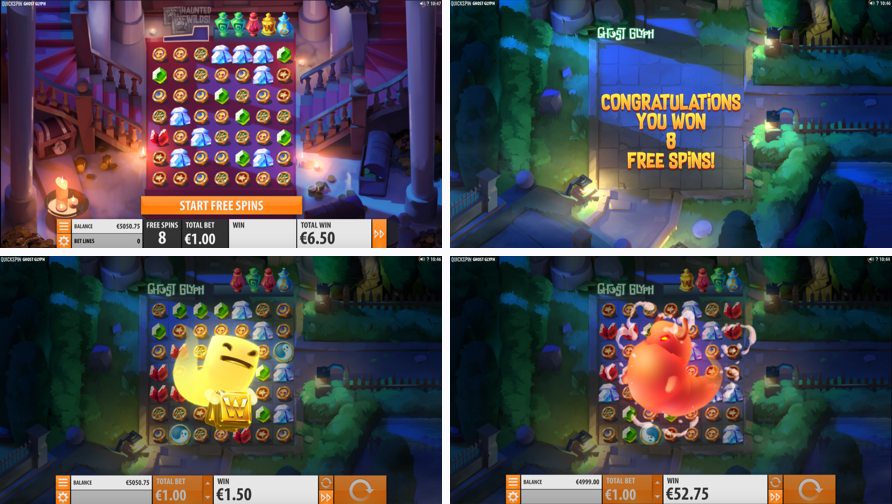 Clint Andersson, Producer: "The word ghost had been mentioned a lot during our latest brainstorming sessions, it showed up in many places at the office, paintings, small doodles, drawings on a whiteboard, even game prototypes had the name ghost in it, but we had never created a game with an actual ghost in it. It was about then we decided to "Let's make a ghost game!".
We already had a very feature-rich game in mind for these kinds of characters, we handpicked the ghosts we liked the most from a selection of about 50 concepts. The blue and the green ghosts where 2 instant favorites and helped defining the rest of the game's setting. We wanted to tell a story with our features and develop a progression for the player to enjoy.
Like you just arrived at the mansion at the ghost hour and they show you all the amazing secrets. The ghost features really put a spin on the reels and helps the player get into the bonus game inside the mansion, while the final feature makes sure that the player does not leave empty-handed."