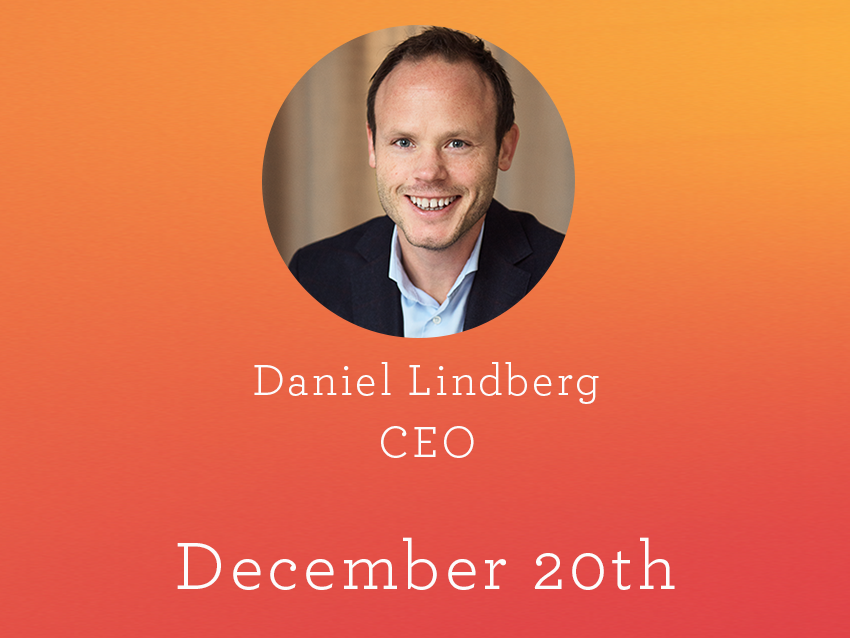 December 20, 2019
Daniel Lindberg recaps 2019
This has been a whirlwind of a year, in the best possible way, and it's hard to believe all the awesome things we've accomplished in the past twelve months.
To begin with, January kicked off with the re-regulation of our home market, Sweden. We've been expecting this for a few years and we're happy that it's finally in place, making the Swedish market a safe one for players. Our team worked hard to ensure we would be compliant from day one, and we had a great collaboration with our clients leading up to this day – including all the workshops we organised – to prepare everyone for this transition.
Which brings me to the next point: all the amazing people at Quickspin. I'm extremely proud of every single person in the Quickspin family and I love coming to work every day! If I mentioned everyone, we would be here all day, so I just want to highlight a couple for now.
In late 2018, we announced Erik Gullstrand as our CPO. Having been with Quickspin since 2012, he's done many great things for the company, including securing some of our very first contracts. I'm proud that we've built an organisation that lets people grow and develop. Erik and his team has done a fantastic job with our products this year, and I'm confident that he will continue to be a key player in our innovation work moving forward.
We've also recruited the talented industry veteran Tomas Alexanderson, who's been managing one of our biggest projects this year: building our own cutting-edge platform. After a long and successful partnership with Relax Gaming, where our games and gamification tools have been powered through their platform, I'm proud to announce that we'll start migrating customers to our own platform in Q1! This is all thanks to Tomas and his team.
We've also expanded the Quickspin universe with 13 innovative, high-quality slots. One of them was our first jackpot game – Dragon Chase. I'm proud that we managed to create two versions of this game, making it possible for operators to choose the one that suits them best, or target a wider range of players at the same time.
Besides creating awesome slots, we've also increased our focus on mobile devices. We've updated our UX design with a new portrait mode – which was showcased beautifully in our 7×7 reactor game Golden Glyph – and we've also updated the interface in our gamification tool Tournaments. We'll continue this strategic work in 2020.
And speaking of gamification tools, our Quickspin Promote catalogue has demonstrated just how powerful these tools can be. When using Tournaments, one operator increased their turnover by 600% and another one doubled their GGR. In addition, our latest tool Challenges has proved to be the fantastic loyalty tool we intended. For one operator, it helped increase their game rounds by 172% and their turnover by +90%!
It's been extremely rewarding to hear these stories from operators, and to learn that our tools help them take care of their entire player lifecycle whilst saving them time and increasing their turnover. Our Promote team, led by Herbert Paradis, keeps going from strength to strength, and with our own platform launching in 2020 we'll be seeing even more innovation from them next year.
We've also signed with many big customers this year. We're now live with giants like GVC and Svenska Spel, customers we could only dream of a few years ago. This proves that we're not a small player anymore, we're now competing with the big guys.
I'm honoured that our talent and hard work has continued to be recognise by third parties. Valeria Russo, one of our fantastic Account Managers, won the Star of the Future Award at the Women in Gaming Diversity Awards in May. In addition, Quickspin as a company has been certified as a Great Place to Work for the second year in a row!
As I'm writing this post, there are moving boxes all around me in the office. We've created so many awesome memories in this place, but we're moving to an even bigger and better office this week. We've worked with one of the best architect firms in Sweden and they've designed the perfect space for us – it will feel just like coming home to Quickspin.
I would like to thank everyone who's been a part of our journey this year and who's helped us become who we are today. I hope you're looking forward to 2020 as much as I am!
Merry Christmas and a Happy New Year to you all!
/Daniel Lindberg, CEO