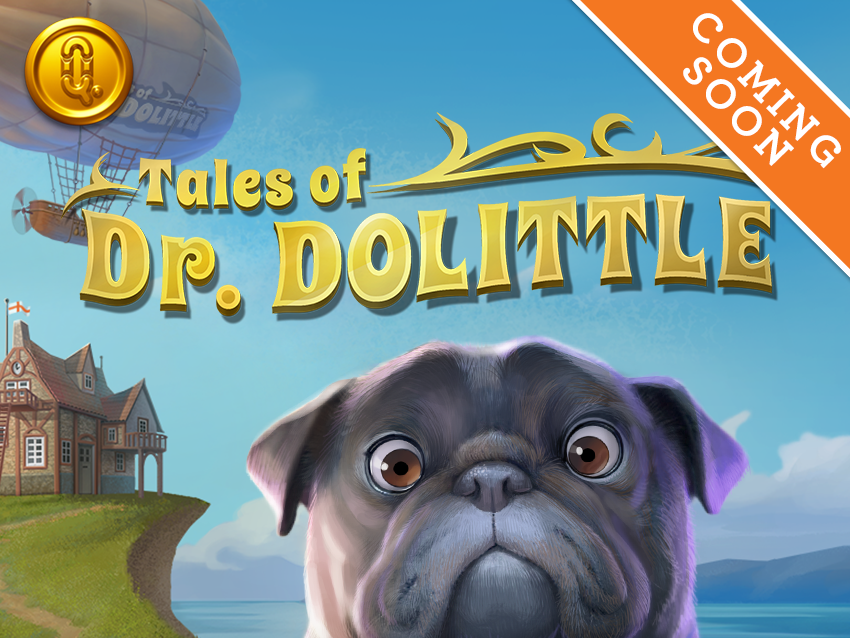 April 15, 2019
Tales of Dr. Dolittle – Coming 25th of April
Tales of Dr. Dolittle – 25thof April
Tales of Dr. Dolittle combines one of the most beloved characters of all time with fun features, beautiful design, and modern game mechanics! Based on the series of classic novels from 1920, this slot pays homage to the world's most famous animal whisper.
In this animal adventure, you get to hang out with the famous Dr. Dolittle and all his pets – a dog, a horse, and a parrot! This slot expands our portfolio of character games, which already includes popular games like Big Bad Wolf and Goldilocks.
Features
We've taken some of our proven game mechanics to make a fun-filled and exciting 5×3 reel slot with 25 active lines and features like Free Spins, Respins, and Multiplier Wilds!
Any winning combination triggers the respin feature, where all winning symbols will lock in their place, and the rest of the symbols will respin. You can always see how many Free Spin symbols you've collected in the Bonus meter, and each spin in the Free Spins Bonus game comes with one guaranteed Multiplier Wild symbol!
And don't miss the transition into the Free Spins Bonus game, where a Zeppelin takes you on a beautiful ride above the clouds – this sequence is absolutely gorgeous!

Interview with team member
This is what Rikard Hilding, Art Director, said about working on the game: "It was really fun to make 'Tales of Dr. Dolittle', as it's a really entertaining and playful video slot! When I started working on it, I gathered inspiration from the old musical film about Doctor Dolittle that I used to watch as a kid. To give it a twist, I borrowed a bit of surrealism from 'Charlie and the Chocolate Factory', which fits the theme perfectly.
What I enjoyed most about working on this game was the theme itself, and the challenge that came with making it happy and quirky without making it too childish. I think we did really well in this respect, and much of the credit goes to the talented 2D artist who was involved in the project. Take that dog in one of the symbols for example, it looks kind of crazy, in a good way!"

Quickspin Promote and Markets
Tales of Dr. Dolittle will be available in all markets where Quickspin is currently present, including the Swedish market. This slot is targeted towards adults and all the marketing material has been approved.
All Quickspin Promote tools will be available in this game from day one. Herbert Paradis, Head of CRM, said: "Tales of Dr. Dolittle is being released at the end of April, so it would be the perfect time to run an exciting Free Rounds Tournament with a Spring theme to match the season. Then a week later, let your players explore the Achievements in the new game by boosting the speed with an action-packed Achievements Race!"
Because we believe so much in this game, we've chosen to release it on the 25th of April when it's pay day in the Nordic countries. We love this game and think it's going to be a big hit!