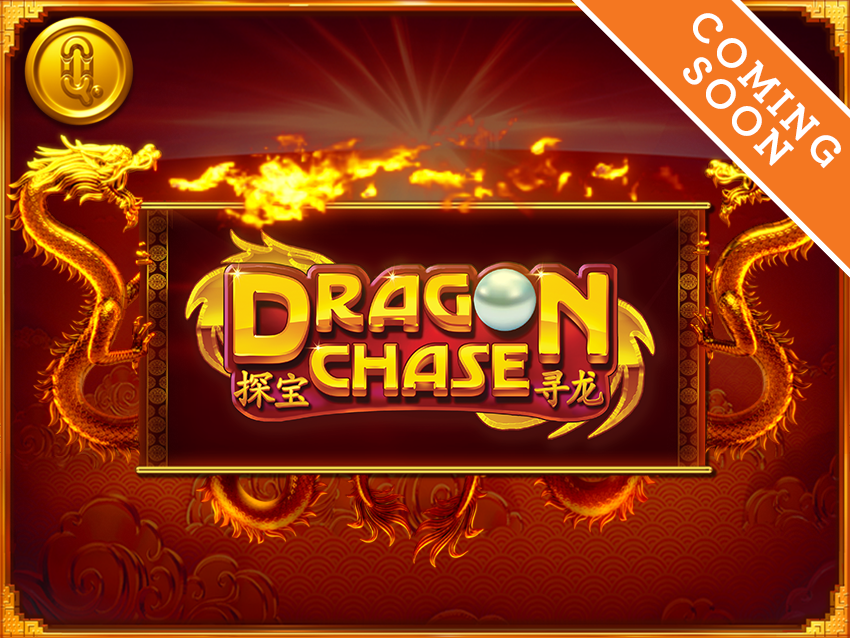 May 27, 2019
Dragon Chase is an exciting slot game and a jackpot game with two versions!
You've asked and we've listened – Dragon Chase is our first jackpot game and we're super excited about this one! We've taken our time to develop this game as we wanted it to be an entertaining Quickspin game AND a jackpot game with the added bonus of being able to win really big!
And it's definitely been worth the wait. This 3×5 reel slot with 20 bet lines boasts a stunning Asian theme steeped in red and gold with traditional symbols, and the striking graphics are accompanied by beautiful music that matches the theme.

Features
With a fiery dragon that 'breathes' Wilds onto the reels, a Free Spins Bonus, and a Dragon Pearl Respin feature with 4 jackpot levels, this slot boasts some fantastic features that are guaranteed to create a fun, unique and thrilling gaming experience!
In the Dragon Pearl Respin feature, you can collect up to 15 Dragon Pearl symbols to trigger the Mini, Minor, Major, or Grand Jackpot. The more symbols you get, the higher the jackpot level – and the larger your bet, the greater your chances of winning the Grand jackpot!

Two versions
To make this game completely unique, we've created TWO versions – so you get two for the price of one! 'Dragon Chase Rapid' has a 10k target and will pay the progressive Grand Jackpot on an almost daily basis (hence the name). The standard 'Dragon Chase' version will make for a more memorable winning experience, as the monthly jackpot can reach amounts over 100k euro!
Operators can choose to run either one of the versions or both, which makes it possible to target a wider range of players at the same time! The game will have multijurisdictional support and it will use an operator specific/local jackpot.
A game for everyone
Dragon Chase will appeal to everyone, as seasoned players will love the traditional theme and casual players will love the clear message and fun features!
This is what Erik Gullstrand, Chief Product Officer at Quickspin, said about this game: "We're super excited to release our first jackpot game, and we're confident that our players and operators will love Dragon Chase! This is both an entertaining Quickspin game and a jackpot game with the added thrill of being able to win really big – so even if you don't win the big jackpot, you will still have an awesome gaming experience!"
"We're also proud to have been able to create two different versions of this game, so that operators can choose which jackpot they want to participate in depending on their size, budget, and target demographic. Or if they want to, they can also use both versions and target a wider range of players!"

Story behind the game
Mark Smith, Producer: "The game development teams at Quickspin have different names, and we're 'Team Dragon'. And when we were talking one day we realized that, ironically enough, we'd never created a game with a dragon in it! So, we thought we should put an end to this travesty and honor our team name."
"At the same time, we were brainstorming themes for the jackpot game, so we decided to combine the two. We had a dragon, and what fits better with a dragon than a classic red and gold Asian theme? Hence, Dragon Chase was born!"

Quickspin Promote & Markets
Dragon Chase will be available in all markets where Quickspin is currently present, including the Swedish market. All the fantastic gamification tools in our Quickspin Promote catalogue will be available from day one, and you can test play the game in our Client Area now!
And we're also about to release a new theme for Challenges any day now – 'Castle Challenges'.
Herbert Paradis, Head of CRM: "Dragon Chase is being released shortly after our new theme Castle Challenges, so why not run a Challenge with this new skin to promote the game? Customized themes are the perfect way to keep your offering fresh and up to date, whilst at the same time giving your players an additional level of entertainment!"
If you're looking for a demo of Dragon Chase, or if you need help customizing any of our gamification tools, contact your Account Manager today!