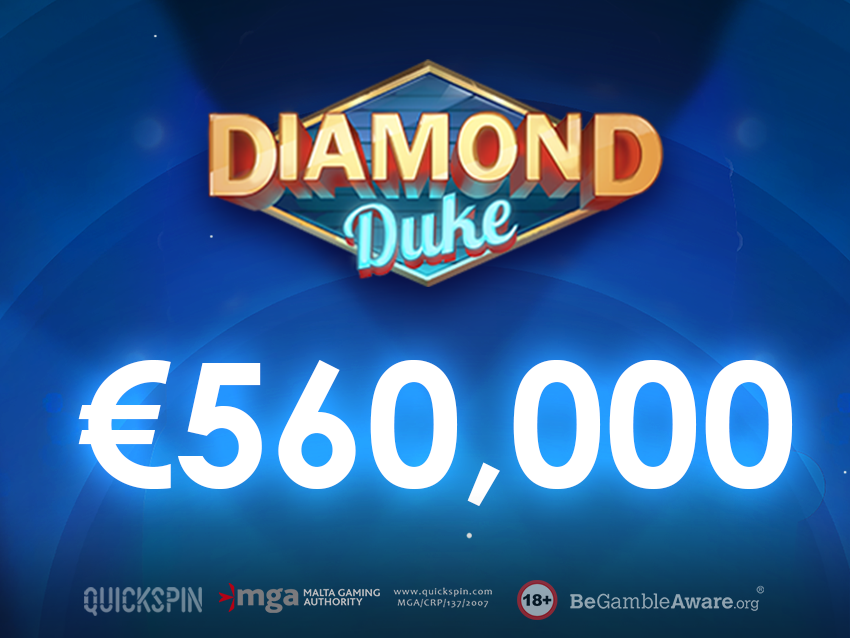 February 1, 2021
Extraordinary win on Diamond Duke - €560,000 in one spin!
"Yesterday a player had a massive win on our game Diamond Duke. By hitting a full screen of diamonds and a multiplier of 7 the player won a total of €560,000 on this excellent game. I would like to send my Warmest congratulations to the player on this win!" – Daniel, Quickspin CEO and Founder.
Diamond duke is one of our more volatile titles, and for those of you who like this game we have a similar title coming up! The game is called Reno's 7 and is produced by Herbert Paradis, see his answers below on what to expect from this exciting title.
You're working on Reno's 7, a game inspired by Diamond Duke. What can you tell us about your next game Reno?
"For Reno's 7 we took a lot of inspiration from Diamond Duke. Both games are very volatile and wanted to keep the classic slot feel for Reno's 7 – but make it even more entertaining. In Diamond Duke you have your multiplier wheels and a pick and click bonus. I felt like Reno's 7 needed some high potential stacked Free Spins, we kept the multiplier wheels as a homage to the original title, but pumped-up the multipliers with a credit multiplier of 7,777x."
The maximum exposure of Diamond Duke is 8,000x. What can we expect from Reno's 7?
"We are still polishing and balancing the final details of the game design for Reno's 7, but you can expect the exposure to be around the same numbers as for Diamond Duke."
This game is up for grabs for our partners interested in exclusive titles, what should I do if I want to get ahold of Reno's exclusively:
"If you are interested in getting your hands on Reno's 7 exclusively you should definitely contact your account manager as soon as possible to get a demo of the game! It will be available from end of May!"