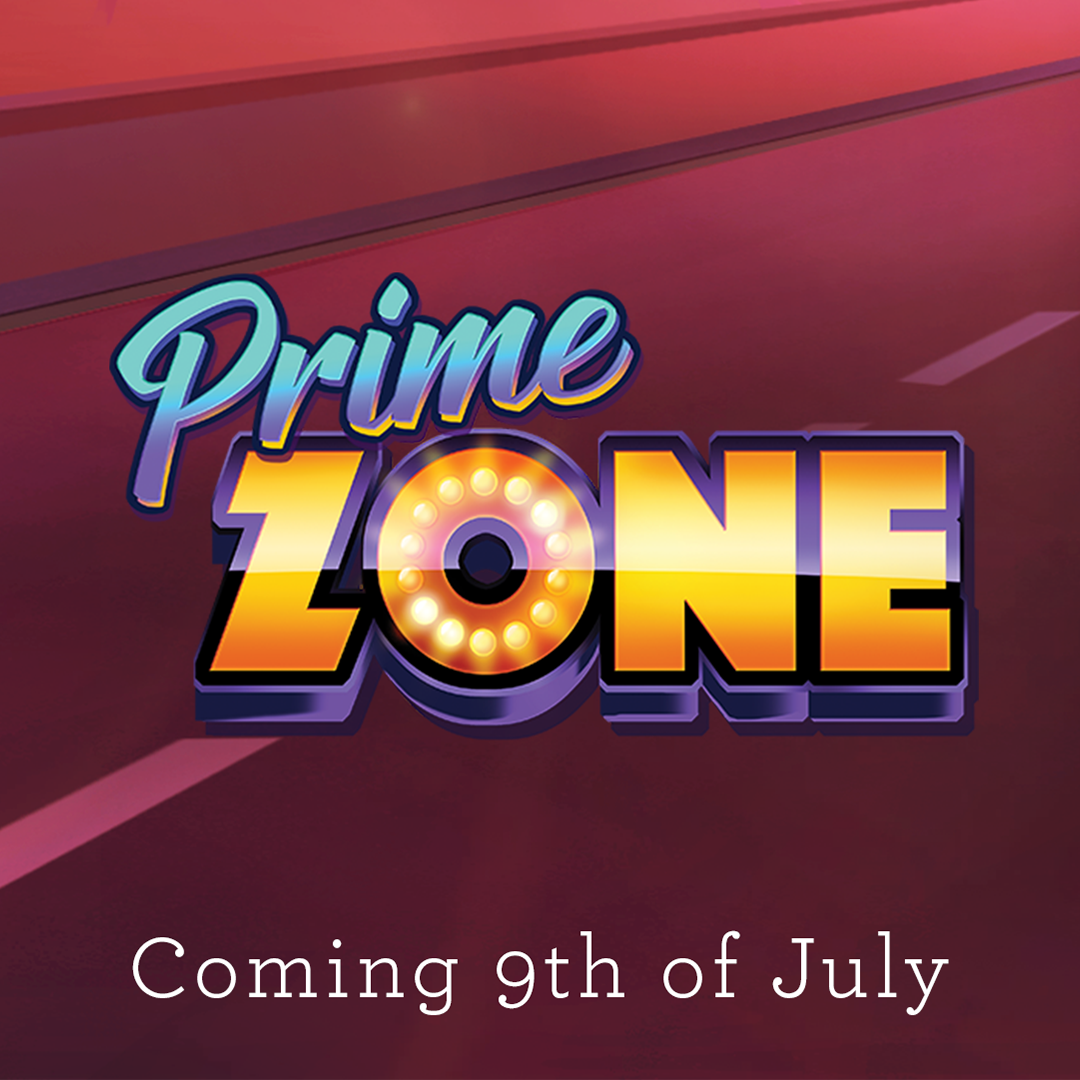 June 24, 2019
Get in the zone with Prime Zone!
If you're a fan of classic casino games, you're gonna love Prime Zone – this slot combines a stylish city theme with traditional slot icons, modern features and non-stop excitement!
We've made this slot for the true casino fans, to appeal to their gambler souls and give them something truly special.
The striking graphics depict a city scene at night, sprinkled with silhouettes of palm trees and high-rise buildings against the purple sky – the perfect setting for a long night out at a casino. With modern game mechanics and upbeat music added to the mix, the result is a stunning 3×5 slot with 10 bet lines and exciting features that will give you a thrilling gaming experience!
Features
Multiplier Wilds can appear anywhere on the reels and multiply a win by up to 5x! They can substitute for any other symbol (except the Bonus Scatter symbols), and if 2 or more Multiplier Wild symbols are part of a line win, a Line-Win Multiplier will be applied to the win.
3 Bonus Scatter symbols will trigger the Free Spins Bonus and 7 free spins! The Prime Zone feature is activated on every free spin in the bonus game. A Prime Zone covers 3 consecutive reels, and 3 Wild symbols are placed in the Prime Zone on every spin. The All-Win Multiplier feature is also activated on every free spin, and all wins are multiplied by the All-Win Multiplier!
There's also a Free Spins Bonus Picker where you get to choose your own volatility before entering the Free Spins Bonus! We've thrown in a mystery (I'm Feeling Lucky) mode to the mix to make things extra exciting.
Story behind the game
Mark Smith, Head of Games: "At the team's first brainstorming session for what was to become Prime Zone, we started by reviewing what games were currently out on the market. What we observed was page after page filled with buffaloes, pirates, gems, Egyptian relics, and Asian fortunes.
It dawned on us that we have the same wide variety of themes in our portfolio, which is fantastic, but it made us think that maybe it was time to add an awesome traditional video slot for the true casino fans. This seemed to be missing in the marketplace.
So, we decided to go 'back to basics' and create something special just for them. We had a lot of fun developing this game, and the result is a straightforward 10-line, mechanical-looking slot with upbeat music and non-stop excitement – Prime Zone!"
Quickspin Promote & Markets
Prime Zone will be available in all markets where Quickspin is currently present, including the Swedish market.
All the fantastic gamification tools in our Quickspin Promote catalogue will be available from day one, and you can test play the game in our Client Area now!
Herbert Paradis, Head of CRM: "Prime Zone is being released in July, so why not run a Tournament with a summer theme to promote the game? I would recommend running a Free Rounds Tournament, which gives players a chance to try the game for free with the added incentive of winning a much larger prize! By using one of our gamification tools together with one of our customized themes you can make sure that your offering stays fun, fresh and up to date for your players."
Prime Zone is a super fun and exciting one-of-a-kind slot for the true casino fans. We really believe in this game and we're looking forward to another successful July launch – just like in previous years!