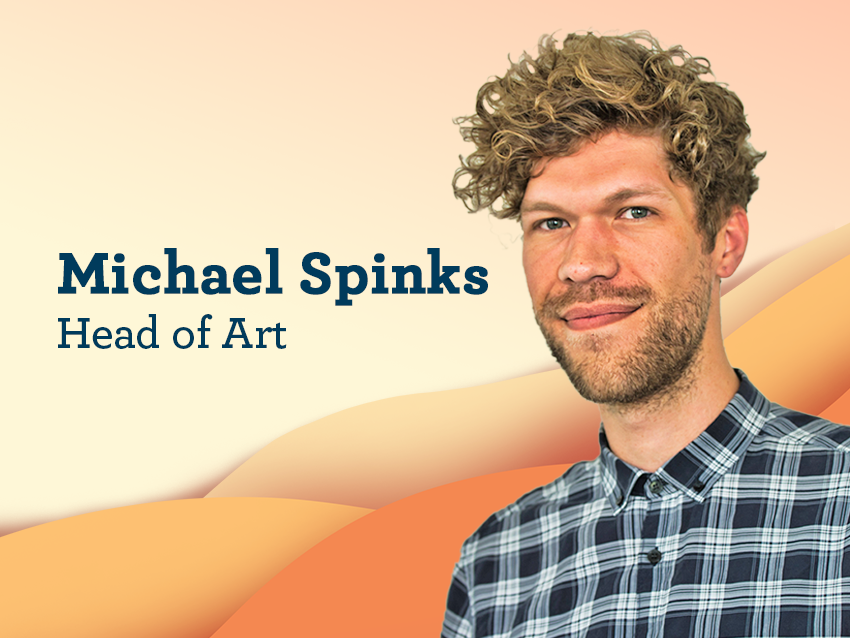 June 22, 2022
From FX Artist to Head of Art – Michael Spinks on the first six months in his new role
What's it like to go from being an FX Artist to leading the team as Head of Art? To find out, we sat down for a chat with Michael Spinks, who was promoted to Head of Art about six months ago. Before joining the Game Studio management team, he was a key member of the art team and was always happy to share his knowledge and expertise with everyone, so we knew he'd make a great leader. 
In this interview, Michael talks about initiatives and challenges they've implemented in the art department, what attracted him to Quickspin in the first place, and the amount of work and creativity involved in producing modern slots (hint: it's not about "fruit symbols and bling").  
Congratulations on your promotion! Now that you've settled in a bit, how are you finding your new role?  
Thank you! The past six months have flown by and it's more work than I initially thought, but that's also because a lot has happened. I feel more confident in my role now, and I'm lucky to have a great team who provide strong support and leadership guidance.  
Coming from the production side helped a lot as I already knew everyone on the team and had worked with them before, which made them more comfortable as well. I miss some of the creativity involved in my FX role, but it's very fulfilling to help everyone on the team. It's great to see everyone's progression and it feels meaningful to give guidance and feedback. 
You've taken many great initiatives for your department, like the Q-day art challenge. What else have you been doing?  
The Q-day art challenge is a chance for artists to explore different avenues of creativity. I created it to help unify the team, create dialogue, and to show off a bit. Like, "look at what we can achieve in just one day"! All artists get to do the same challenge, but the outcome is very different from person to person. It's like a break from their day-to-day work, where they get to visualise different styles and get inspired by each other. They can do anything they want with it. 
After a suggestion from one our Graphics Artists, Anna Bashmakova, we also started our in-house Inktober challenge last year. The challenge was to create new art based on our games every day throughout October. The only direction was to use black ink and Quickspin's orange, and to use a different game each day as a starting point. This quickly became a daily inspiration for the entire department.  
Even though each game project differs, and our artists always get to challenge and push their own style in their everyday work, the Q-day art challenge and Inktober challenge have both been great sources of inspiration to keep exploring and experimenting. 
I've also focused on keeping the creative juices flowing by getting our artists to host workshops, and I've worked closely with IT to get our department set up for a more remote way of working, to match our new hybrid work mode. 
What's it like to work as a Graphics Artist at Quickspin? And as Head of Art?  
I would say that the amount of input you receive for each game is much higher than in other game studios, which is a good thing, and that everything is done and created in-house. Everyone gets to add their personal touch to what they create, and we collect rounds of feedback from all over Quickspin – everyone gets to have their say.  
The result is that every single thing we produce is a representation of everyone in the company, which creates a sense of pride in what we do. Our product is the sum of all of us, and that's what attracted me to Quickspin in the first place. That, and the Swedish fika 🙂 
It's great to work as Head of Art, as everyone on the team is so incredibly talented. They don't need a lot of direction, so my role is mostly to support, give feedback, and help out when needed. I believe that people deliver the best results if you give them freedom, but I try to challenge them to communicate, share ideas, and give feedback on each other's work. They're really good at doing that.  
One of the preconceived notions about creating slots is that there isn't the same level of creativity involved as with other gaming companies, like "it's all fruit symbols and bling". What are your thoughts on that?  
That couldn't be further from the truth. Don't get me wrong, we still cater for the classic slot players, but the possibilities for an artist are endless. With every game we produce, the art team has the opportunity to create their own world. They design the landscapes, scenery, characters, animations, FX, storylines, and so on. And then there's all the design as well, across multiple platforms: the UX design, logos, typography, and more. 
Creating our slots requires much more work and creativity than people realise. This product has grown way beyond the classic 3 x 3 fruit slots – it's just as much about the gaming experience as it's about the chance to win big.