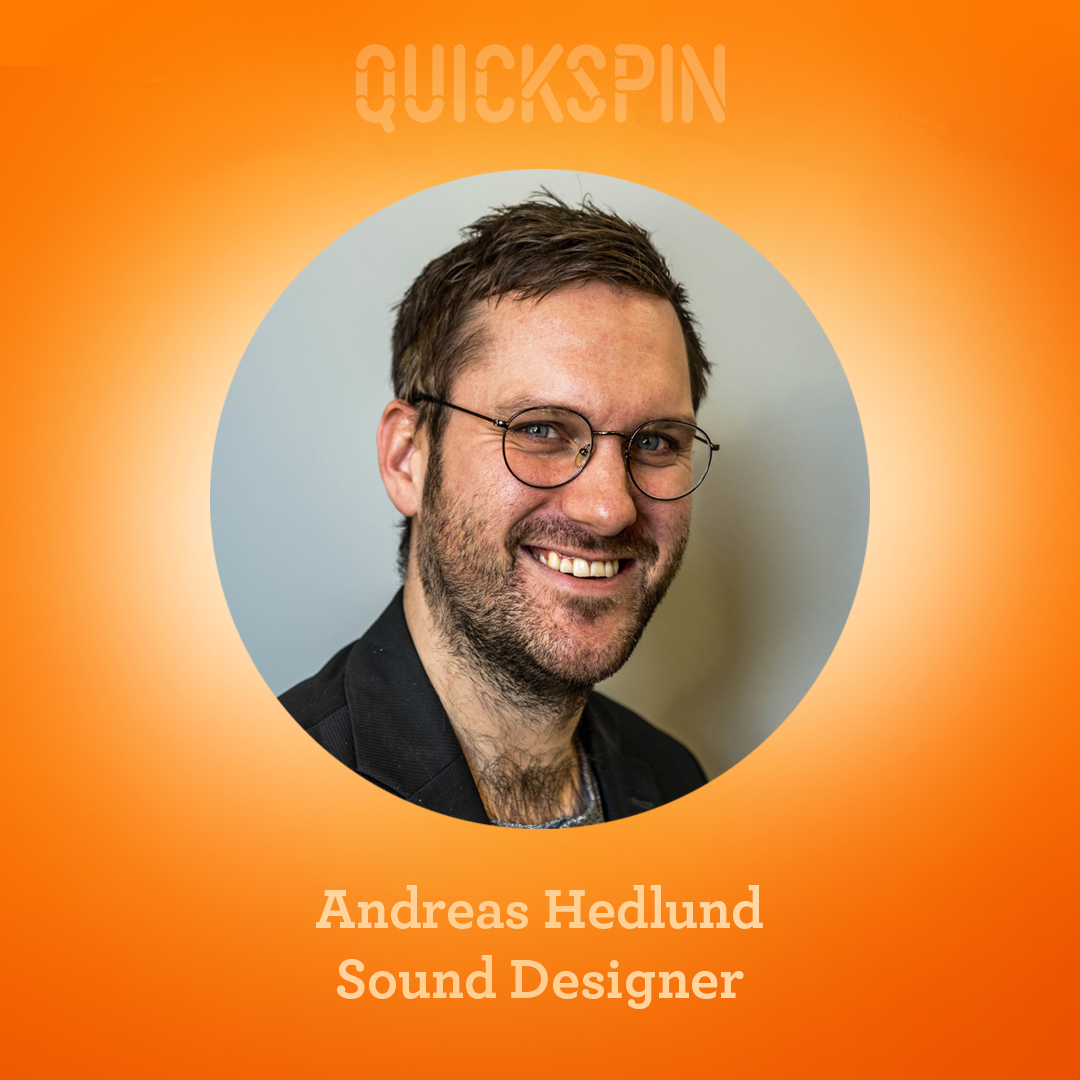 September 25, 2020
"I was about to leave the music business"  – Andreas Hedlund, Sound Designer
The man behind the music Andreas Hedlund works happily from his own music studio booth at the Quickspin office in Stockholm today, although would it not have been for a twist of luck, he would have ended up on a different path in life.
"I was about to leave the music business, but then a friend sent me an ad for the Sound Design position at Quickspin. I thought 'Why not?', applied and got the job. Today I'm very happy I made that decision."
When asked how a normal day at work starts, Andreas replied: "I'm quite visually oriented and story-driven, so I'd like to have as much as possible of the graphics and animations in place, then I kind of "hear in my head" where to go from there."
Quickspin's roadmap varies with a myriad of types of slots that draws in a mix of players and slot-enthusiasts. This also means Andreas has to constantly adapt according to each theme, whether it's an action-packed car chase, an Indiana Jones inspired jungle slot or a finger-snapping classic slot game from the Jazz-loving heydays of America in the 50s, is something he has excelled at since he first stepped into Quickspin in January 2018.
Creating suspenseful moments and exciting cliffhangers through sound effects enhance the experience one gets when playing Quickspin's slots. "Every workday is very different since I'm usually both producing audio for one game, and implementing or supervising other games at the same time." he said.
If it would be up to Andreas he could fiddle, fine-tune and play around with sounds all day if he had the choice. However, he's come to the realization to learn to accept a "good enough" approach instead. The amount of time each game takes to produce sounds for varies. "Everything depends on what the visuals look like and what the game is about, I'm always trying to use the player's point of view."
Previous to working as a Sound Designer at Quickspin, Andreas worked as a freelance composer and orchestrator for seven years. He was juggling a part-time job writing arrangements for symphony orchestras (mostly video game and film concerts) with producing music and sound effects for commercials and mobile games.
Asking which game he favorized there is one that stands out. "It's hard to tell, but I imagine "Ticket to the stars" is my favourite, simply because I'm a sci-fi fan, so it feels like the music and SFX creation was made for me," he said.
"Different games have different challenges, but I think Arcane Gems was quite difficult. As mentioned, I'm very story-driven, and it's a bit abstract to find a story around a single box. It took a while before I found the right approach for that game."
Quickspin's August release, Artemis vs. Medusa is Andreas current project. "Artemis is a game based on Greek mythology, and for me, it was a fun game in many ways. The monster feature in the bonus round keeps the excitement up, since it can result in an endless amount of spins. Even if Medusa is not killed, there's still a good payoff with the game. And if killing the monsters, the payoff is even greater. Epic orchestral/film soundtracks lie close to my heart, and that's what this game needed. I'm very happy with the outcome. " he said.
For Andreas, the craft behind creating sounds for slot games, is to find the balance between what needs enhancement and tone down what is not important. The music should put the player into a state of flow or meditation, and when something is happening in the game, the player should be surprised and feel the joy of wins or game features. This requires him to know the game well, and to know the player's perspective.
What's your best tip for working with music or sound design?
"Study classical orchestration/composition techniques, and dig deep into sample libraries and other technical stuff. Nowadays, music production and sound design is as much computer-tech related to music/sound related. Oh, and keep your deadlines!" Andreas replied.
Andreas has also created the sound for our October Release, Hammer of Vulcan! Like Rock, then you need to give the game a spin!
Play responsibly | 18+ | http://BeGambleAware.org