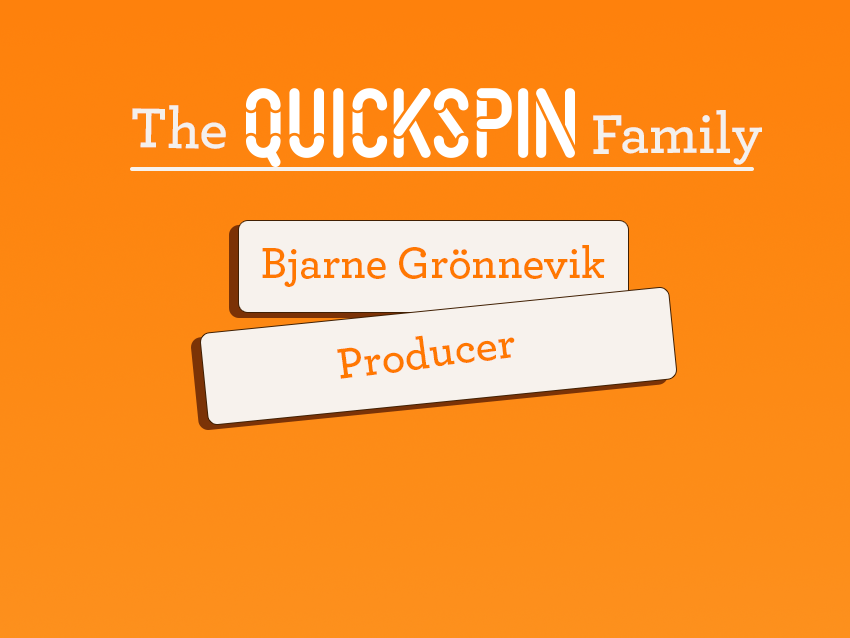 September 25, 2019
Interview with Bjarne Grönnevik, Producer
We love it when we get to promote our team members and watch them grow and flourish! Bjarne Grönnevik is one of those people. He's worked at Quickspin since 2014, in the development department, and we promoted him to Producer earlier this year (Wild Tome of the Woods was his first game as a producer). Read on to get to know Bjarne a bit more!
Hi Bjarne! Congrats on your first game as a producer – Wild Tome of the Woods is such an awesome game!
Thank you! The team did a great job with it and it was a lot of fun.
So start off with, what did you do before you joined Quickspin?
Before this, I was working at NetEnt. I knew the founders of Quickspin and many of their first employees, so I kind of had a way in.
Cool! And what games have you worked on since you started working here?
I've worked on Dragon Shrine, Epic Journey, Sinbad, The Three Musketeers, Hidden Valley, Jewel Blast, Illuminous, Razor Tooth, Genie's Touch, Dwarfs Gone Wild, and many more.
Have you always known that you wanted to work in the gaming industry?
I've always loved games, but it took me a relatively long time before I realised that it's something you could actually work with in reality.
I was pretty clear on the fact that I wanted to do programming, but I started out by building stock trading systems. It didn't exactly have the same joyfulness as this. Games are much more fun!
Definitely! So what do you like most about your job?
The creativity and getting to solve problems together with a bunch of people who are extremely competent and driven. I love that it's such a creative environment, both mentally and physically.
Which Quickspin game is your favourite, and why?
The Wild Chase! I think my brain remembers a real mega-win in one of my first sessions, which has then amplified the positive experience in the memory bank.
Great choice! Then you must be looking forward to the sequel?And speaking of great games, why do you think players like our games so much?
Yes, I am! I think players can sense that we love what we do and that we create the games we want to play ourselves. In a marketplace that's flooded with cheap copies and as little effort as possible, I think you really stand out if you're passionate about what you do.
Couldn't agree more. So where do you find inspiration for your work and what does your work process look like?
I have some kind of 50-50 attitude – part of me wants things to be super structured and organised, and part of me wants to come to work every day, put out all the fires on my desk and shoot from the hip. Come to think of it, what I just described sounds like the opposite of a work process!
Haha, well whatever works for you 🙂 So when you're not working, what do you like to do in your spare time?
Some kind of mix of board games and computer games. The latest game I bought was "The Binding of Isaac: Four Souls", which is a board game that's based on a computer game. And I also like to take vacations to go scuba diving.
Nice! And can you tell us something we didn't already know about you?
I've chewed through a 220-volt cable and survived (obviously). I wouldn't recommend it though.
Ouch, that sounds pretty bad! So on to our final question: if you were a character in one of our games, who would you be?
The bomb dwarf in "Dwarfs Gone Wild"! I like to break things and to grow ridiculous amounts of beard.