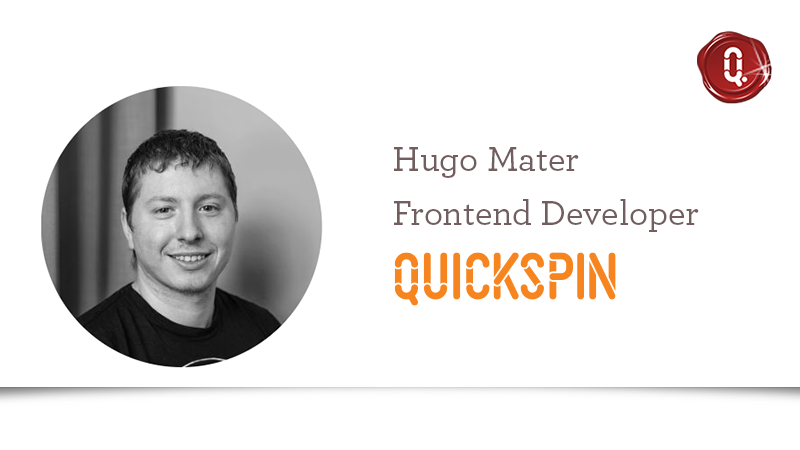 December 18, 2018
Interview with Hugo Mater
Hugo Mater, the dutch multitalent developing and maintaining our promotional tools. We stole a few minutes of his time to get to know more about one of Quickspins latest feature: Tournaments.
How long have you been at Quickspin?
I've been at Quickspin for nearly a year now

What is the best part abot your job?
Being able to develop really cool tools that enhance the game experience. The games are of course the core of our product, but I love that me and my team get to develop innovative tools that gives the player an even cooler experience.

Can you tell us a bit about Quickspin Tournaments?
Quickspin Tournaments is a tool that is used to have a competition between players to win a well deserved prize. Different tournaments can have different prizes and method of earning points which makes every tournament a new and exciting experience. Tournaments can be held on one or multiple Quickspin games, and the same tournament can also be held network wise through multiple operators.

It's been quite the journey making sure that Tournaments is able to be used on almost all of our games, and to make sure that the tournament is noticeable for the player but not disturbing the user experience when playing the game.

What player is Tournaments created for?
The tool is designed for all kinds of players since it's not just about how much you bet or how many spins you've played. Our tournaments can also be based on for instance hitting a scatter or entering free spins and more of these game based events. Playing more will of course increase your chance but it takes a bit of luck as well.

What do you think player appreciates with Tournaments?
It's always nice to hit an additional prize besides winning within the games but also the competition between players to get to that first position and then to stay at that position.