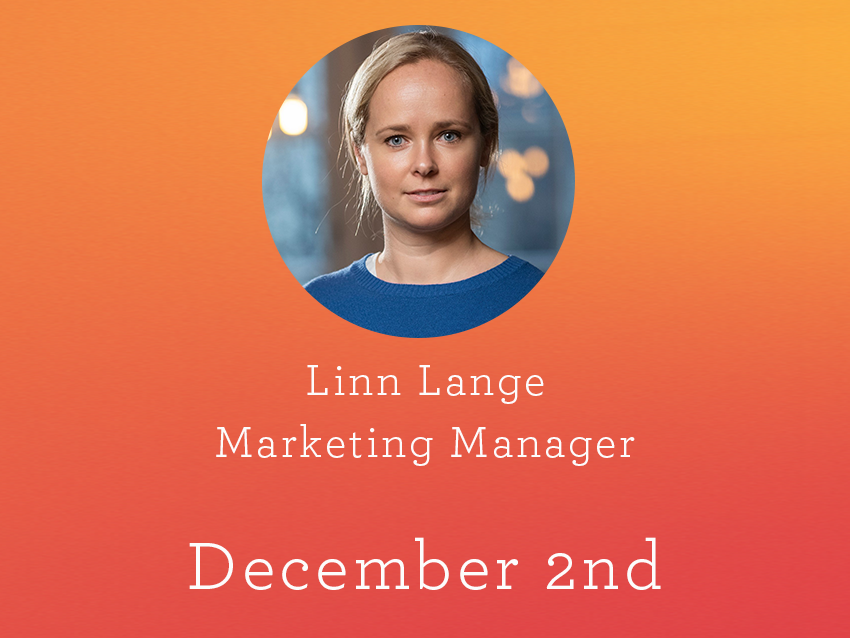 December 2, 2019
Interview with Linn Lange, Marketing Manager
Today is the 2nd of December, which means it's day two of our Quickspin countdown. We were lucky enough to get a few minutes with Linn Lange, our busy Marketing Manager extraordinaire and self-proclaimed Christmas fanatic! Read on to learn more about Linn and to find out what she does here at Quickspin.
A little elf whispered in our ears that Christmas is your favourite time of year, so how excited are you?
Yes, I love Christmas! I'm almost as excited as my kids on Christmas eve, which is hard to compete with. It's also an exciting time in the office as we're launching our last game of the year tomorrow, and we're busy getting ready for ICE in February. And the Christmas party is in a few days, which I'm of course looking forward to.
How long have you been at Quickspin?
I've been working at Quickspin for almost 6 years now!
Could you describe what a perfect day at Quickspin might look like for you?
A perfect day for me would start with a cup of coffee, or three. This is followed by a brainstorming meeting with Anna, our awesome Marketing Coordinator. We'll come up with all sorts of crazy ideas, only to snap back to reality and scrap it all, start over again, and then find the perfect solution. Our afternoon would be spent planning our marketing activities for the next game release.
What is the best part about your job?
That it always gives me an opportunity to grow, both on a professional and a personal level. And that I get to work in a creative and exciting environment where there's always room for crazy ideas, and where everyone in the organization is so clearly working towards the same goal.
Which part of the Quickspin offering is your favourite?
I think our entire offering as a whole is completely outstanding: the games, the gamification tools, the platform, and the people.
What are you most proud of?
I'm really proud to have built the marketing team from scratch. That we've made it into what it is today, and all the work that we've done with our brand.
If someone is interested in working at Quickspin, what would you say to them?
I would say that you should definitely follow us on all our social media channels, to give you an idea of what a day at Quickspin might look like. And if you have any questions at all, you're more than welcome to ask a question on social media or to email us. And make sure to take a look at the Career page on our website and connect with us there.
What's been your favourite part of building the Quickspin brand?
I'm really proud of the journey we've done, and are still doing, when developing our brand at Quickspin. I really like the authentic voice we've had since day one. We've always been 100% ourselves and I think that comes across in everything we do. It might sound a bit cliché, but our brand really is a true reflection of who we are, the people here in the office, and our product, so I think we've done that really well.
How do you think Quickspin's core values show up in our marketing efforts?
I think our core values are reflected in many areas of our marketing. To start off with, all our games have a very characteristic graphic style that is easily recognizable as "us". In addition to that, one of our core values, 'Stay playful', is very much reflected throughout our offering and everything that we do. And another one, 'Make a difference', is also reflected in the events that we organize throughout the year, where we're always trying to do something different and rewarding for our clients.
If you had to pick just one marketing activity in 2019, which one was the most fun to work with?
The Quickspin Hockey League, definitely! It was such a fun event to organize and an excellent example of what it's like to work at Quickspin. When I pitched my weird idea about organizing an ice hockey tournament in Malta, in the 30-degree heat, Daniel's spontaneous response was "yes, go for it!" So we're definitely organizing this again in 2020, and we'll make sure to make it just as awesome as the last one.
With so many suppliers out there, what do you think is the most important thing to do to cut through all the noise?
I think it's really important to set clear goals for each communication, which we do. And to constantly be asking ourselves how, where and why we do what we do. To take time to reflect and analyse the data, to make sure we're always focusing on the right things.
What are you most excited about for 2020?
ICE Totally Gaming is always an exciting event! That's coming up in February, and we're of course organizing our popular After Expo Party like we do every year. It's such a nice break during the event days, as they can get quite intense.
We're also planning lots of exciting Quickspin events for 2020, so I look forward to planning and executing them. And we have a smashing product roadmap that I'm super excited about marketing!