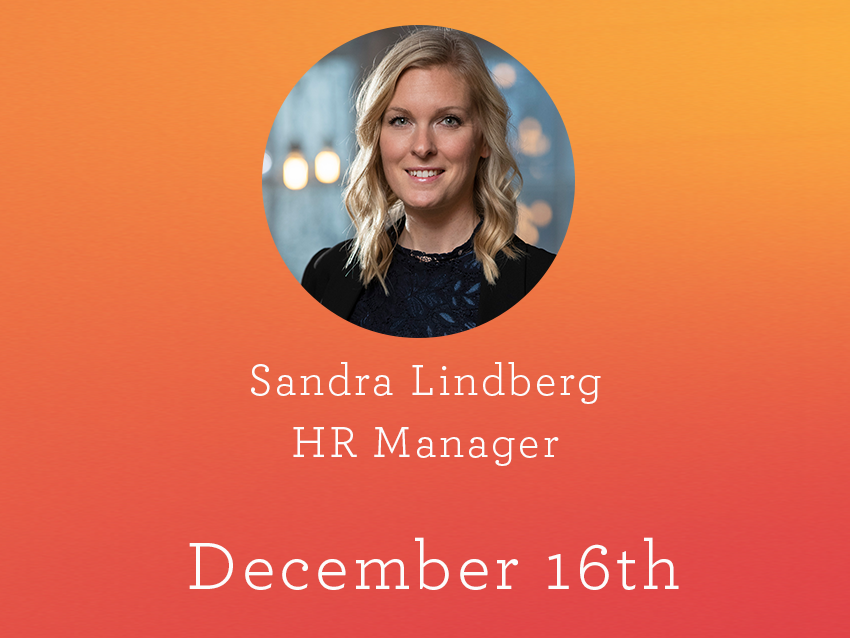 December 16, 2019
Interview with Sandra Lindberg, HR Manager
Our amazing HR Manager, Sandra, joined the Quickspin family a few years ago and she's been a vital part of our organisation ever since. We sat down to find out more about her work here at Quickspin and what she's up to right now. Read on to get to know Sandra better!
Hi Sandra! How are you?
I'm great, thank you! I'm in the middle of organizing everything for our office move here in Stockholm. It's a lot of work, but so much fun at the same time! We're finalizing all the details now, and I'm really looking forward to welcoming all our employees to the new office after Christmas.
Wow! The new Quickspin Office sounds very exciting.
Yes! The new office is twice the size of the current one, and we're working with Stockholm's best architects. They're so creative and innovative, and it feels like they're building us our new, perfect home.

What do you do here at Quickspin?
I work with people. The most important part of my job is to constantly challenge us to be a little bit better and to create the best place to work. My biggest driver in my work is to create and maintain a situation where our employees feel like they can grow and develop, that they're happy at work, and that they feel included in everything that we do. I'm passionate about creating a diverse and inclusive workplace that allows people to try, fail, succeed, and thrive. That's what people operations ("HR") is all about.
What's your favourite part of your job?
That I'm surrounded by so many talented, awesome people. Whatever we come up with people jump right into it with enthusiasm and passion, and I know it's not something that should be taken for granted. I don't think I´ve ever heard a "no" to a single idea here. We want to try new things and we love to do it together. And since I'm a sucker for team work, it's like I'm in work heaven at Quickspin!
What are you most proud of?
That we've been certified as a great place to work for two years in a row, and I really think we've made great progress in how we work with our culture. I think it's safe to say that our company culture is something that everyone at Quickspin is really proud of, and it motivates us as co-workers to continue to improve.
We work proactively every day to build a strong foundation for people to flourish, both on a personal and a professional level. And this is not just a HR focus, I'm proud to say that this is something that all managers and employees make happen at Quickspin. I'm also proud to say that we have a strong, safe, feedback culture where employees feel that they can be transparent with what they think and feel.

Since you started here, our gender diversity has increased a lot.
Yes, it goes without saying that this is something that's very important for us, and something that I'm very proud of! But we still have a way to go when it comes to the number of women employed. We've taken important steps and we've increased the percentage a lot over the past few years. We have a plan forward and we do a lot of things, but we need to shout out more and we need to do even better!

What challenges do you see at the moment?
Since we want to be the best place to work, we need to constantly improve. We're always trying new things and we continue to work on the improvements that have already been implemented. There's a high demand for tech specialists out there, which affects us as much as other companies – we're fighting for talent and we want them to stay with us on our journey for several years. We do have a very low employee turnover though, and I think we've been very successful in hiring diverse teams. We're currently 29 different nationalities amongst our 100 employees.
What advice would you give to someone who's interested in working with Quickspin?
Get in touch! We're really nice, and we love it when people reach out and we're happy to tell you more about us. You can easily "connect" with us through our career site or by sending us an email. On our career site, there's quite a bit of information about our different departments and who we are. There's also a film about what it's like to work here, which will give you a pretty good idea about us and who we are as a company.