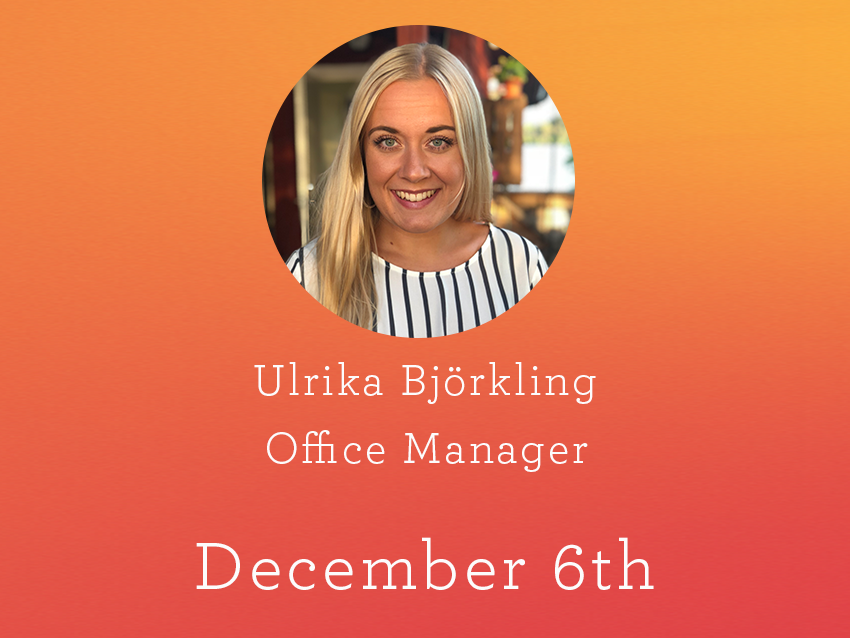 December 6, 2019
Interview with Ulrika Björkling, Office Manager
The office is buzzing with excitement today as we're getting ready for our annual Christmas party! We couldn't have pulled this off without Ulrika, our brilliant Office Manager. She's our superstar planner and organizer, so today we'd like to shine a well-deserved spotlight on her. Keep reading to learn more about Ulrika and her job here!
How long have you been working at Quickspin?
I started working at Quickspin on the first of April 2017, so I've been here for more than two and a half years.
What do you do here?
So many things! In short, I'm responsible for the management of all our offices – Stockholm, Malta and Kiev. I take care of all our internal communication, all our trips, and all our fun events.
Sounds like fun! So tonight, it's time for the annual Quickspin Christmas Party. Could you give us a hint on what to expect from the evening?
I can't say that much, as it's top secret. But it's going to be a really playful evening that includes all the amazing things we've done, and are still doing, to make a difference!
What would a perfect day at Quickspin look like to you?
Ooh, that's a tough one. Each day has its own charm! I think the best days are the ones where you come into the office feeling a bit low, and maybe having a bit of a bad day, but your awesome colleagues manage to turn it around and make it a great day.
What's the best part about your job?
That it's so broad, varied and filled with fun stuff – which also gives me the opportunity to make other people happy! There's always something new and exciting going on, and you're always welcome to pitch new ideas and suggestions. That's what I love about this job.
What challenges do you face in your role?
Keeping everyone happy and handling lots of big projects. I guess it's what's called juggling lots of things at the same time? 🙂
You've been a key person when it comes to the new Quickspin office. What can you tell us about our new office space?
Oooh, there's so much to say about it. First of all, our new office is going to welcome you home to Quickspin! We're super proud of the family feeling that we have here, and it really feels like we're emphasising that with our new headquarter. It feels like coming home to the Quickspin family.
Of all the projects you've worked on in 2019, which one was your favourite?
It's hard to pick just one! There's the fantastic trip to Palma, the implementation of our new core values in connection to the events, and the giant project with our new Stockholm office (which isn't quite finished yet, but almost). Maybe a combination of all of them? I love that I get to organize and be responsible for so many really fun things, and then seeing the result and the smiles on everyone's' faces when it's done!
Palma was a fantastic trip indeed! Can you tell us a bit more about what it was like to plan a long weekend in Spain for almost 100 people?
It's really important to keep a balance between all the activities. We had four days where we wanted to maximize our time together, but at the same time we didn't want to cram too much in and make it feel too hectic. One of the things everyone enjoyed a lot was the beautiful hike we did on the Saturday, between Deia and Port de Soller. I think it says a lot about Quickspin that we enjoyed going on a 4 hour walk together, and that we had a blast!
Also, since the only option to go to Palma for a weekend from our office is by plane, we made sure to climate compensate our CO2 so that everyone would feel comfortable with the trip. Yes, it was a lot of work to organize this trip, of course, but I was so happy with the result. Seeing all your friends and colleagues enjoying their weekend together made it so worth it!
What are you proud of?
I'm a bit proud of the fact that I'm good at keeping calm under pressure, both in my personal life and at work.
What are you most excited about for 2020?
So many things! New office, new people. And the implementation of our last core value and finalizing the work around that.
If someone is interested in working at Quickspin, what would you say to them?
You should contact my amazing colleagues in the HR team, Matilda or Katarina. I'm sure they'll find the right place for you in our family!
Some of the events we can thank Ulrika for in 2019.