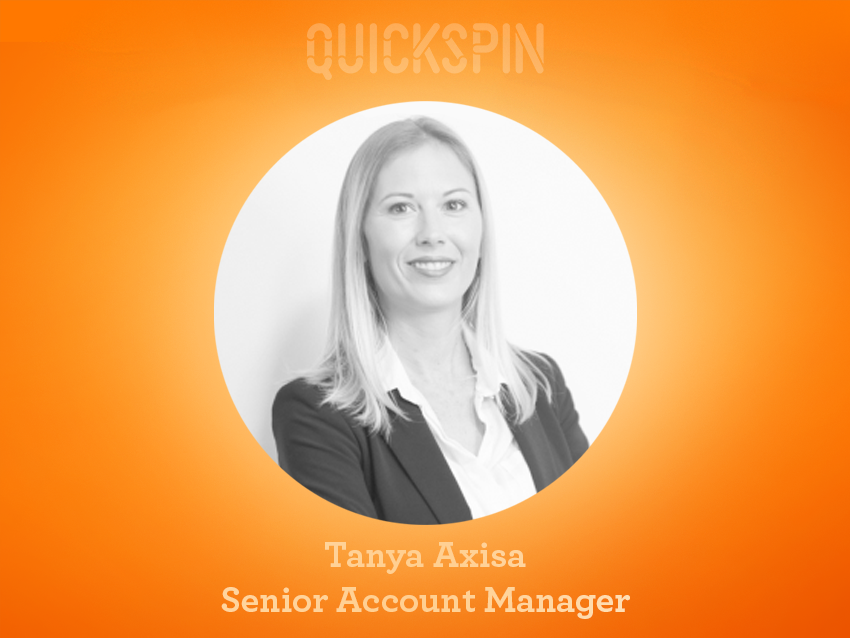 August 31, 2020
"It's easy to find a new job these days, but to find a workplace with a culture you like is not as easy"
Tanya Axisa is one of our talented Senior Account Managers and she's been with Quickspin for about three years now. Her main responsibility is to take care of our tier 1 operators, but she's also been involved in planning network tournaments, supporting new Account Managers, and more. Read on to find out what she thinks makes a good workplace, her thoughts on company culture, and her tips for those of you who are interested in doing what she does.
Hi Tanya! So to start off with, why did you decide to join Quickspin?
I was curious about Quickspin as the product seemed quite different from anything else on the market and I really liked the look of the company culture. I've been in gaming for many years and I've worked with several companies during this period, so I had extensive experience to compare it with. I'm happy to say my instinct was right. From the moment I had my first interview at Quickspin, I felt like I really wanted to work here. I'm coming up to my third anniversary now and I still have the same feeling.
And we're so happy you decided to join us. What would you say is the best thing about your job?
I really love how versatile it is. My main focus as a Senior Account Manager is to take care of our tier 1 operators. In addition, I've also been involved in planning our network tournaments and supporting our new Account Managers. When working in multiple areas like this you get to work with lots of different teams within the company, and I really like the fact that people are so open and generous with sharing their knowledge.
Our product team is based in Stockholm, and I'm based in Malta together with the rest of the account management team. I think it's inevitable that the geographical distance affects us at times, but I would say that teamwork and helping each other out is a common denominator for all Quickspinners, which makes everything manageable.
One of the best things about my team is that we always encourage and help each other. We also bring all kinds of valuable feedback to the table, to help each other progress and improve in all areas of the company.
Since the sales team and I are usually the people who receive feedback from our clients, we try to forward it to our product team in a constructive way. Being a team player is super important within Quickspin, and it's absolute key to have good and clear communication between all the different departments.
I have to say that all departments to a fantastic job with what they do, and it's so inspiring to work with people who are really passionate about what they do. Quickspin is very much in touch with its employees. The company knows that we all want to progress and develop, so they do everything they can to help and encourage us to get there.
It's easy to find a new job these days, but to find a workplace with a culture you like is not as easy. We really do have a great culture, but you also need to be able to communicate what you want and were you'd like to see yourself within the company in the future. It goes both ways.
I'm sure everyone who works in the gaming industry are aware that it's heavily male dominated, and our company is no exception. However, I love the fact that we have so many inspirational women leaders at Quickspin who are doing a fantastic job within the company. Go, girls!
Yes, we couldn't agree more. Speaking of a great workplace, what's your fondest Quickspin memory from your time with us?
There are so many great memories. I love that we meet up in Stockholm every year – it's amazing to be a part of a company who values the relationship between employees so much. It's always inspiring to meet up with the product people and to hear the background stories behind our games. Since I joined Quickspin, we've also been on two big company trips together. One where we all went to the ski resort Åre in Sweden, to go skiing, and one where the company went to Palma, Mallorca.
It's so nice to see your colleagues out of the office and to get to know them better. It definitely helps later on when we're working together on a daily basis. I think this shows that Quickspin is a very open-minded company that values its employees and always tries its best to help us with our communication.
So many great memories. And lastly, what would you say you need to become an Account Manager? Any tips for our readers?
I would say that you need the ability to give advice and to be a good listener. You also need to have good business skills and to build good relationships with all your customers. And of course, you need to be interested in slots, to be able to educate your clients and explain our upcoming games to them.
We're always on the lookout for new talent. If your think Quickspin might be the right place for you, just be yourself and keep an eye on the Career page on our website, which is where you'll find all job openings within the company!