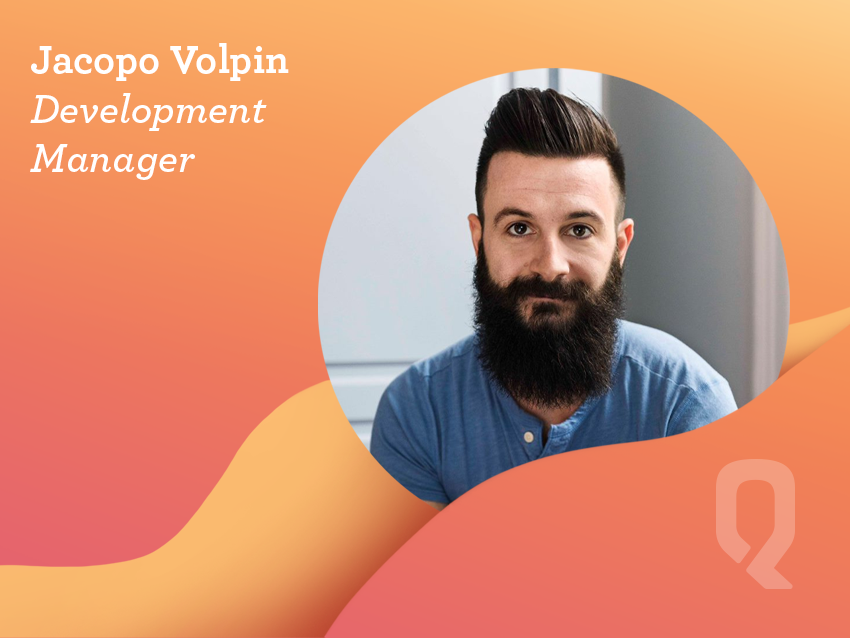 February 10, 2022
Jacopo Volpin has been promoted to Development Manager!
We're on fire – lots of new employees and lots of new promotions this season! Today we're celebrating the promotion of Jacopo Volpin, who is moving from Client Developer to Development Manager.  
Some fun facts about Jacopo: he won our prestigious Stay Playful award, he can speak faster than the world's best rapper, he makes the best pizza in Stockholm, and he won the company's Go Kart racing and folk race competition – if it has wheels, he will win. 
Congratulations on your new job, Jacopo – a very well-deserved promotion! So, how long have you been working at Quickspin now?  
On February the 21st, I will have worked here for six years.  
Could you tell us more about your job in the Game Studio? Maybe some challenges and opportunities you've encountered over the years. 
During the past six years, my responsibilities have included delivering all the great games we've released so far, while as a Lead also taking care of all my team members, helping to create a strong family feeling and friendships. Since I've been working in the game team for so long, I've had the opportunity to work with many of the producers and other employees, making lots of friends along the way. 
My main challenge has been to deliver a structure code that could be repurposed in other games, in order to focus more on other innovative aspects of the game development. 
And in your new role, how do you plan on spending your time? 
My new role is very exciting! I will be able to follow up and work more closely with all our current and future developers, build an even stronger team overall, improve our work processes, and further strengthen the quality of our products. My goal is to always be available for my team when they need help and to keep having lots of fun while we're working together. 
What challenges and opportunities do you anticipate in your new role?  
The biggest challenge will probably be to help everyone reach and pursue their dreams and goals. But I will definitely be able to invest lots of time in everyone and to do everything I can to keep everyone happy and engaged. If there's a problem, there's always a solution. 
Definitely. Could you name your three favourite things about Quickspin? 
After all these years, I still believe that the people are the best thing about Quickspin, and the fact that we all care about each other. On top of that, Quickspin gives you all the freedom and trust that you need to be autonomous. This might sound easy to obtain on paper, but from my experience working in Italy and Canada, it's not that simple. And last but not least, the company and the people let you be who you are – so you can work, have fun, and always be yourself along the way! 
What's your all-time favourite Quickspin game? 
My all-time favourite game is still Northern Sky. It was my first game as a Lead on a very small team, as we were still in the process of hiring new developers for the production team. 
Yes, great choice! And finally, what do you look forward to most in 2022? 
Considering the last few years of the pandemic, it's definitely to meet everyone in the office again, but also to keep improving as much as we can in the development area. There's a lot to look forward to! 
Panagiotis Chryssovitsanos, Chief Operating Officer: "Jacopo has been a key member of the Quickspin family for six years now, leading several of our biggest and most important productions, and I'm very happy to see him being promoted to Development Manager. He's a great reflection of our fantastic people and our core values, and I can't wait to see what he will achieve together with his team as we move forward with our roadmap and long-term strategy."