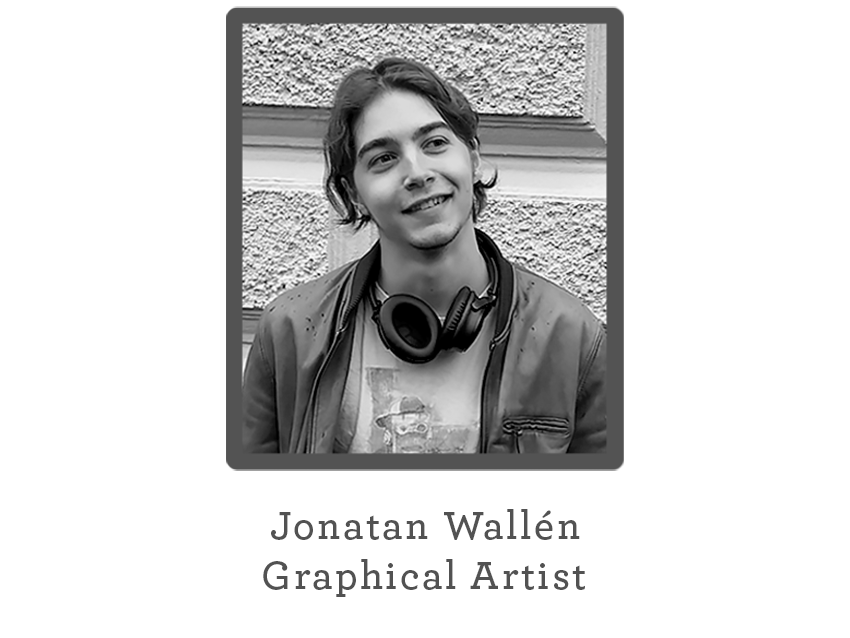 June 13, 2019
An interview with our latest art recruit Jonatan Wallén
Today, we'd like to introduce you to Jonatan Wallén, a 21-year-old Graphics Artist from Stockholm. He started as an intern here a few months ago, but we were immediately impressed by his skills and offered him a full-time position in the Quickspin family pretty swiftly!
Read on to find out how Jonatan ended up here, what advice he would give to other people who dream of working with games, and why he would be the spinion in "Spinions Beach Party" if he was a character in one of our games.
So, to start off, what do you like to do in your spare time?
Apart from drawing and painting, I also like to play games – often multiplayer games with friends. I love "speed running" as well. Mainly watching it, but also failing miserably trying to do it myself.
And how long have you been working at Quickspin now?
I started as an intern at Quickspin in March, the first week of the month I believe, and then I started my employment on the 2ndof May. So, I had an internship for roughly two months.
What else have you done before Quickspin?
Before Quickspin, I studied 2D graphics at the game development school Futuregames in Stockholm. I also had a four-month long internship as a concept artist at the game studio Fall Damage, mainly concerning environments.
Previous to that, I freelanced quite a bit for different clients. Mostly with an Australian company creating pixel art games. I did that while I was studying Interaction design at Stockholm University.
Have you always known what you wanted to do for a living? Did you always want to work with games?
I haven't always wanted to work with games actually, that came when I was in my teens. For the most part, I've wanted to work with art. That's been a steady passion for my entire life and I've always known that I'd like to work with creating art in some form. Then I realized that I could combine my passion for art with my love for games.
When I was a lot younger though, I wanted to be a cartoonist I remember. And I mean before that… a policeman or something, but we're getting too far back now…
Was it a straightforward or a long-winded path to where you are now?
It's been a pretty straightforward path to be honest. Ever since I started high school, I've made sure to make decisive choices leading me to where I wanted to be. This means that I've often ignored what might have seemed like the smarter decision in favour of what I thought could get me to where I wanted to be instead, dropping out of various educations and quitting jobs in order to do what I love.
Would you recommend Quickspin to other interns?
Yes, I would definitely recommend Quickspin! I can only speak for artists, but I think people would be really surprised if they saw what I get to do every day. Concept art for characters, colour exploration, environment illustrations, etc. All of that combined with a really good working environment and talented co-workers.
Awesome, we're very happy to hear that 🙂 So, what part of your work here has been the most fun?
I think the environment illustrations I've done have been the most fun. I just love painting environments, so that's why. It's also a lot of fun getting good feedback and improving, as cheesy as that may sound.
What's the best part of your current job and what do you like most about working at Quickspin?
The best part of my job is the part where I get to paint things, and it's also a really friendly place with great people. At some other workplaces in the gaming industry there can be a bit of hostility and toxic competitiveness. Quickspin isn't like that at all, people encourage and help you here!
Which Quickspin game is your favourite and why?
Ok, so my favourite Quickspin game is "The Three Musketeers", for the sole reason that Simon Stålenhag created the background for that game, and I mean… that's just awesome. "Dwarfs Gone Wild" is another favourite. From an artist's point of view that game is just really well made, with creative and fun characters, animations and backgrounds.
Where do you find inspiration for your work? What does your work process look like, and what tools do you use?
I find inspiration in other people's work, both in the workplace and from people all over the world that I look up to. My process can be hard to pin down as I often mix things up and try different strategies, but more often than not I start by searching for references for the kind of mood I'm looking for. Then I start working on silhouettes and compositions in grayscale. From there, I sometimes use 3D (if it's an environment) to get a base going. And lastly, I try to find interesting colour combinations that enhance the mood I'm aiming for.
What would you say to someone who wants to work with games? Do you have any advice to give them?
I think it's important to remember that you have to have a passion for the creative work itself if you want to work with games. I can only speak for artists, but I don't think you can really work as an artist in games if you don't want to be an artist at your core, if you're only in it to for the "game" part. So, practising your fundamental art skills is probably the most important thing.
If you could go back 5 years and give your younger self one piece of advice, what would it be?
It would probably be to share my artwork more, to show it to more people and not keep it to myself. The sooner you start showing people your art, the sooner you get that feedback that's so crucial to improving your craft.
Can you tell us something we didn't know about you?
I've played a lot of sports, including tennis, table tennis, lacrosse, badminton, football, basketball, volleyball, beach volleyball, handball, indoor bandy, hockey, golf, disc golf, gymnastics, baseball, karate, sailing, wake surfing, kayaking, rugby, billiards, skiing/snowboarding, archery, airsoft etc. etc.
Wow, that's a lot of sports! So, our last question: if you were a character in one of our games, who would it be?
That's an easy one! I'd be the spinion in "Spinions Beach Party". He just looks like a cool guy, you know.