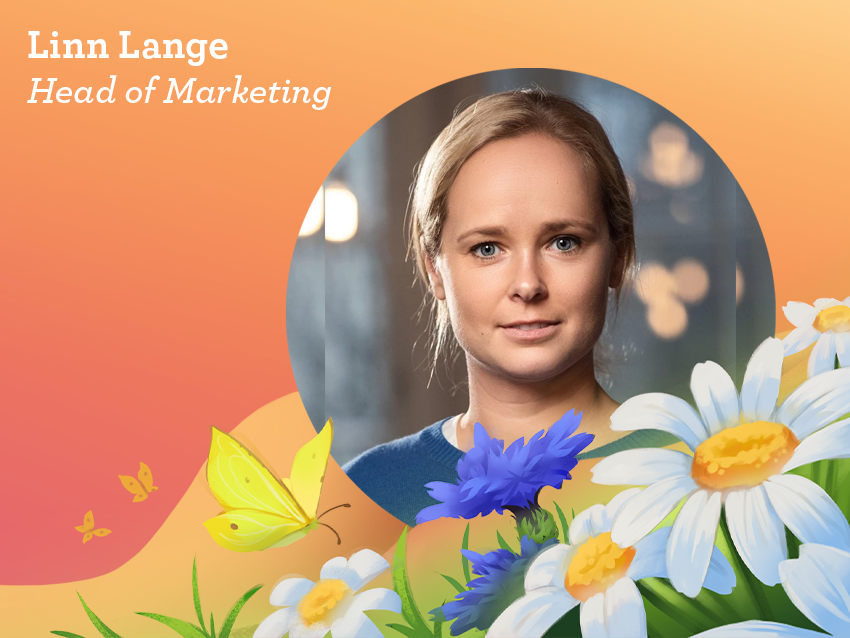 June 30, 2022
"Keep an open mind and dare to pitch even the weirdest ideas"
Linn Lange, Quickspin's Head of Marketing sits down to talk about creativity, daring and the world's most awesome slots
In order to create the most thrilling gambling experience ever and by creating the world's most awesome video slots, Quickspin makes sure that the glue that holds everything together – the very core of the company, the employees, thrive at work.
Linn Lange has been part of Quickspin for around eight years, today she works as Head of Marketing and is someone who lives and breathes the values the company stands by. It should come as no surprise that she is the perfect fit for this position. She is a marketing professional, experienced in brand development, digital marketing, and has a proven ability to plan and coordinate creative and strategic marketing activities in highly competitive industries.
The passion for creating and supporting a dedicated team with well-defined goals and genuine trust is something that Linn finds important to build something sturdy from the ground up. "When I started at Quickspin I executed all marketing activities by myself, I enjoyed the entire process from strategic planning to execution and evaluation, but it was also hectic at times. Today my team consists of our Copywriter, Graphic Artist,  Product Marketing Manager, and myself. It has been amazing to build this team, and today we all get to work with the things where we are experts," she said.
Apart from being a gaming studio that creates engaging, inventive, and downright fun games, Quickspin is constantly reinventing itself all the way from the boardroom to the creative process and down to the marketing department. Quickspin and companies, in general, are taking a more proactive position in their employee's well-being today, and a large part of that is believed to become more destigmatized with honest dialogues. As this industry is constantly evolving, we find it important to have proactive and preventive measures when it comes to finding solutions, gender diversity and transparency in communication.
Maintaining a workplace where employees feel like they can grow and excel, as well as creating opportunities for Quickspinners to evolve are some of the main priorities. The upshot of Quickspin already being active on all these fronts, to adapt to the future and pave the way for a more diverse and equal workplace, is already an incredible feat.
"It's important for me as a manager to continuously create processes that allow us to stay playful and encourage creativity, but also to encourage our teams to be more daring, to be brave and confident," said Linn.
One of the upsides of working in such a close-knit unit is the creative team brainstorming sessions, a necessity for all the best ideas to flourish and bloom, she explains. "We go through a billion ideas, laugh a lot, drink at least five gallons of coffee, and almost inhale Swedish Fika, and once we've discussed all ideas we simply start over until we find the best solutions."
COVID-19 is a good example of when my team have had to rethink our strategies. We went back to the drawing board to focus on what our objectives, key results and initiatives (OKR's) are, what we can do to reach them and overcome the obstacles in front of us. We also kept one of our values "Always strive to improve"– as a guideline the past months," she said. "To me, this is one of the most important values that we have. Both for your personal growth as well as on the company level. I always encourage my team to take their time when creating marketing material to allow them to develop the skills they are interested in developing."
At Quickspin inspiring and encouraging each other, and how we deal with open communication has been front and centre. When spending at least 40 hours per week at work it is important to have a safe place to try new things, fail and succeed.
One key factor for succeeding is to constantly measure and follow up on our personal goals, through clear KPI's and active leadership.
When asked what the best tip for someone who wants to be part of Quickspin, or in marketing specifically Linn replies: "We're a growing company and constantly on the lookout for new talent, I would recommend that everyone keeps an eye on our career page where new roles are posted."
"My advice to anyone who's on the lookout for working in marketing is: Keep an open mind and dare to pitch even the weirdest ideas, they normally turn out to be the best. When I came to our founder Daniel, to pitch an idea of arranging an ice hockey tournament in Malta, in the middle of summer – I was sure he would think I had lost my mind. But he loved the idea, we held the hockey tournament twice now and it has been so well received by our clients!"
It may seem like a tricky idea to arrange an ice hockey tournament in the middle of summer in a different country, but Linn found a solution. "A friend of mine is a former NHL player and is still highly active within the sport. He's also a true entrepreneur and he helped us with the 'ice' which is actually synthetical ice, you still use normal skates – but it won't melt."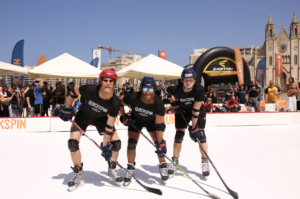 Great leaders are hard to find, and great leaders who make their team feel safe, create a sense of comfort where they can try and fail and encourage achievement, are even rarer. Leaders are like parents, an analogy by Simon Sinek from his Ted Talk "Why good leaders make you feel safe," is something worth listening to according to Linn.
This has been an inspiration to her in her everyday leadership role, which also has permeated her work up to this day. Apart from this, Linn also finds inspiration in nature. "It is important to wind-down, I try not to take work with me back home. The best ideas come to me while sailing or sitting on the dock at my summerhouse watching the sunset, it's the small things that refuel me and give me energy. Find a place and environment where you can relax and feel inspired, allow the ideas to come and never judge yourself or others when being creative and don't feel like you need to solve all potential problems straight away."