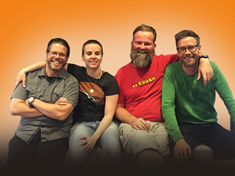 June 27, 2016
Quickspin's Fantastic Four interview with Ask Gamblers
Have you ever wondered who's behind those stunning online slots that we love so much? We sure have. So we decided to revisit our dear old friends at Quickspin. Why Quickspin you may wonder? Well, that's easy – they are a young company with a burning passion for online gaming. And of course, another reason may just be that the world of online casinos was recently buzzing with news about the Quickspin acquisition by Playtech.
But anyway, this time round we wanted to meet the people who actually make the slots we admire so much. So rather than simply talking to CEOs, Quickspin was kind enough to introduce us to their team.
Quickspin's Fantastic Four
On this occasion, we had the pleasure to talk to four amazing people who are responsible for bringing stunning slots to life. Without further ado, let us present the fantastic four.
Firstly, we would like you to meet Rikard Hilding, art director and graphic artist, with four years at Quickspin and 18 years in the gaming industry. Then there's Bjarne Grönnevik, a programmer at Quickspin for the last three years, with 14 years' experience in software development in total.
Next in line is Travis Grabau, who has been the project manager at Quickspin for two-and-a-half years, and who has been in the gaming since 2009. Last but not least is Eira Ekre, a test engineer who joined the team just six months ago, but has seven years' of experience in gaming.
Quickspin – the team that just love slots!
We touched base on a number of interesting topics and got to meet the people who put so much energy into crafting fun games. At the end of the day, they're all just slots lovers who get to create exciting games for the rest of us to enjoy. Keep on reading and find out more about  your favourite Quickspin slots and the people behind.
Read the full interview here