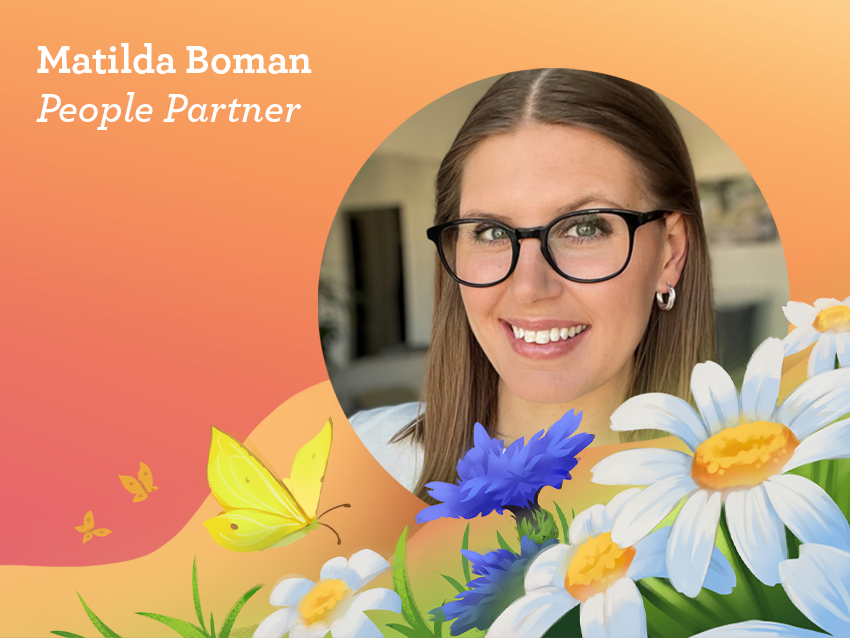 July 6, 2022
Matilda Boman, our award-winning People Partner, shares her expertise on Diversity & Inclusion
If you've read our series on unconscious bias, you know that we care deeply about Diversity & Inclusion here at Quickspin. 
To dig deeper into this topic, we sat down for a chat with Matilda Boman, our award-winning People Partner. Matilda has tons of experience working with recruitment and company culture, so she's quite the expert on diversity and inclusion. 
Grab a coffee or a cup of tea and get settled in! This interview is a treasure trove for anyone who's interested in building a diverse and inclusive workforce. 
When building a diverse workforce, what would you say is the most important thing to keep in mind? 
It's important to know that a diverse workforce is not about adding one person who's "different" to a homogeneous group – there needs to be a real mix of people within the group. Building this workforce can take time and there might even be some resistance at first, but it gets easier as you add more and more diversity, and start to experience the benefits. 
What is a diversity plan, and why is it important to have one? 
Firstly, it's important to have a diverse workforce as it creates greater synergy when people within a group have different perspectives. This can lead to anything from increased learning among colleagues to a more successful business in the long run. To make this happen, it's important to have a plan in place. 
At Quickspin, our diversity plan is a living strategy for diversity, equality, and inclusion. It's a document where we continuously state where we are, where we want to be, and how we plan to get there. These strategies include things like our recruitment process, practicing zero tolerance for discrimination, actively adding diversity, securing a work environment that's physically and psychosocially inclusive, and more. Every part of this strategy works towards the goal of strengthening our Diversity & Inclusion work. 
In general, diversity refers to having a variety of individuals with different characteristics in a group. These characteristics can range from ethnicity, age, gender, religion, sexual orientation, cultural background, and even someone's personality. Your personality and other 'softer' characteristics are of course harder to measure.  
With that said, we're extremely proud of our diversity at Quickspin. In our staff of about 100 people, 29% are women, we have more than 25 different nationalities represented across 3 international offices, and the age of our employees range from 23 to 64 years old. Among our managers, 31% are women and almost 40% are non-native Swedish.  
We strongly believe that our diversity is one of our success factors and one of the reasons why we have such a high employee satisfaction index, in addition to being well-known in the industry for making awesome games. 
What would be your top 3 tips to someone involved in recruitment, who wants to succeed with diversity? 
First, make sure that your company is as open as possible in terms of diversity, to attract different applicants and make things easy for them. For example, if your company uses a small native language, this blocks job opportunities for anyone who doesn't speak that language. Even though Quickspin is Swedish, we use English as our official company language and in job ads, which greatly increases our chances of attracting different applicants from all over the world. 
Also, be aware of human shortcomings. One example is the "halo effect", which is when people tend to value attractive people more highly than others. Another example is being aware of gender differences. Women only tend to apply for jobs if they qualify for 100% of the listed requirements, whereas men apply if they qualify for 60%.  
It can also help to have a clear job description and share it with the hiring team from the start. And always get a second opinion, preferably from someone who's different from you. We tend to be drawn to people who remind us about ourselves, so it's easy to hire a candidate because of the feeling of familiarity and not because they're the best fit for the job. Bear in mind that without diversity in the team, we won't be able to build upon each other's ideas and perspectives.  
Finally, to all recruiters out there – dare to disagree with your hiring managers and fight for your candidates. 
How do you work with inclusion? 
When onboarding new Quickspinners, I make sure we sit down to go through our core values, what they mean, and why they're important. Our core value 'Team first' promotes inclusion within the teams and ensures no one gets left behind. 'Make a difference' highlights the importance of making each other feel seen and heard. This can be implemented by welcoming new team members in the Slack channel, or by going the extra mile for the team.  
We also have employee handbooks for each office. This is a way to remind ourselves that even though the majority of Quickspinners are Swedish, we do have an international workforce and it's important that we communicate in English so that everyone's included in the conversation.  
Another great thing we do for inclusion is having a Culture group, which consists of representatives from each department. It's a place where we hold space for open-hearted conversations about how we're doing and what we could improve. 
Why is it important to be an inclusive employer? 
Being an inclusive company means that there's a shared feeling that everyone's welcome here. Like Barack Obama said: "It doesn't matter who you are, or where you come from, or what you look like, or where you love." We don't care either – as long as you're not an asshole, you're welcome to join the family! 
We work hard to make sure our managers are coaches rather than dictators, as we want to foster a safe and encouraging work environment. The same goes for the management team, who all lead with love and transparency. When we gather around for our regular "All Hands" meetings, where the management team and leaders share updates and information, there are no secrets. All employees are encouraged to ask questions and share their opinions, and I think that's the foundation of an inclusive organisation.  
And although our managers are great people who lead by example, the culture of a company is created by the sum of its people. By letting our employees be autonomous and "run free", they become the ones who are co-creating and recreating the organisation. I think this leads to happy employees who thrive in their roles and as humans, which hopefully makes them stick around.   
How do you know if you're on the right track with your diversity work? 
I would say that transparency goes a long way when it comes to inclusion and psychological safety. We use Winningtemp to measure the wellbeing of our company, a great HR tool that takes the temperature in nine different categories across the organisation. Through weekly anonymous surveys, the temperatures are shown in real time and are available for everyone to see.  
We're lucky to have had outstanding results, which gives us an insight into what we're doing right. And if the trend would ever spiral downwards, we can act immediately and track the results. 
What are you most proud of when it comes to your work with diversity and inclusion? 
I think it's fantastic that Quickspin consists of so many different people with a wide variety of backgrounds, professions, and personalities. We have a mutual respect for each other, and we always work and have fun together as a team. That's thanks to the kindness and respect we all share here, together with great leaders who show the way. 
For me personally, I can be a bit quirky and lack filter sometimes, but I've always tried to be myself at work. My hope is that besides reminding people that they're allowed to be silly – another one of our core values is 'Stay Playful' after all – it signals that you're allowed to be whoever you are and still feel included.  
My sense of pride in my work is like that quote by the entrepreneur William Wang: "Everyone on the team plays an equal role. My role is to create the wave and everyone on our team keeps the wave going."