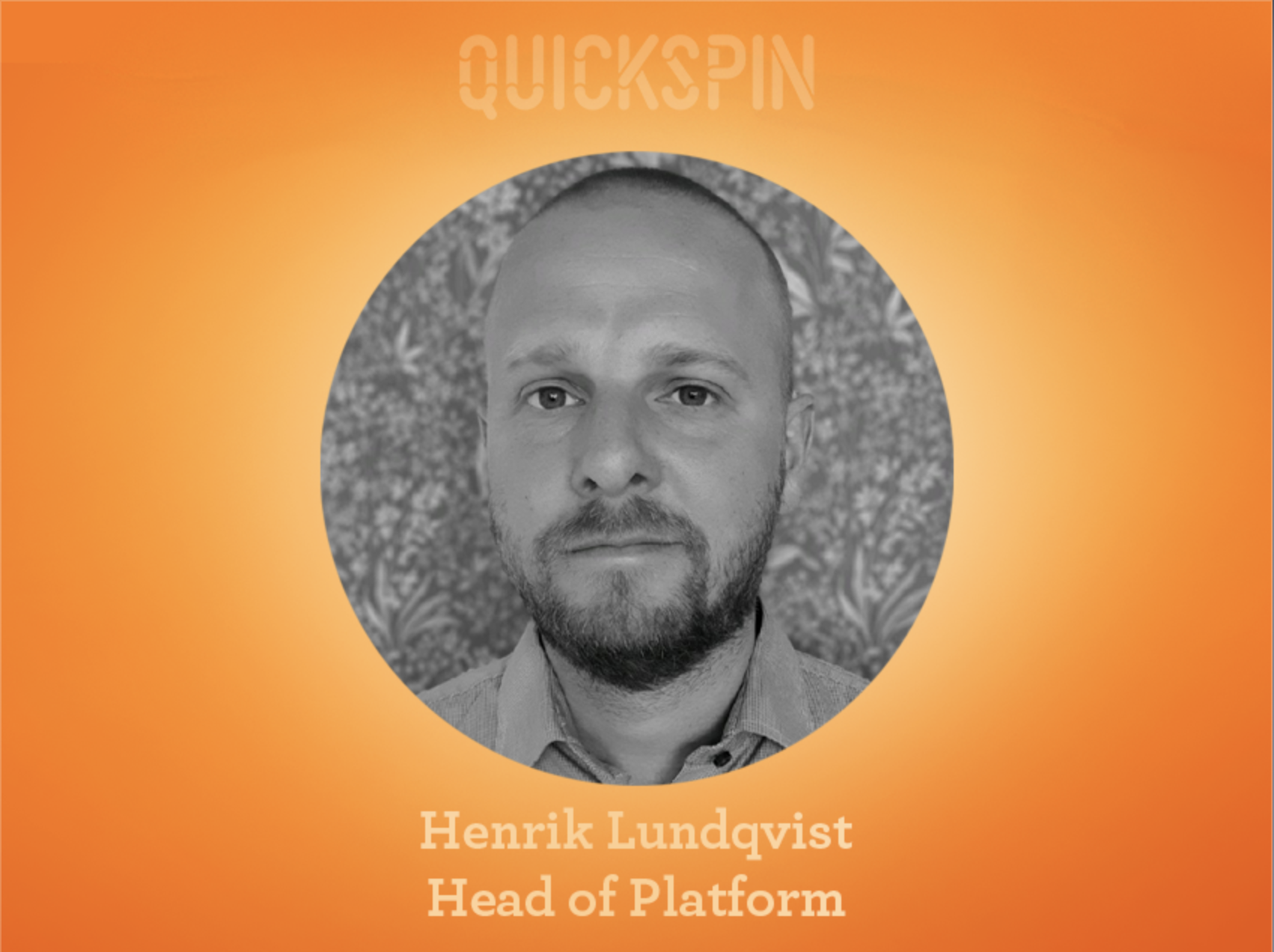 July 3, 2020
Meet Henrik Lundqvist, Head of Platform
As you probably know by now we are building our own platform. This is a true milestone for us, which will allow our customers to get access to Quickspin games directly from The Quickspin Platform, aswell as giving us more flexibility and control. We will be able to release even more exciting gamification tools in our Quickspin Promote and to overall take the Quickspin product, our partnership, and your casino to the next level.
We are looking to do the first migrations by end of summer. If you would have any questions about this already please contact your personal Account Manager.
Recently we recruited iGaming professional Henrik Lundqvist as Quickspin's Head of Platform. Henrik has honed his skills with a decade-long experience in the iGaming industry and will play a crucial role as one of the key players in the launch of the Quickspin Platform. We chatted with Henrik to check in on the platform project and to see how it is to join a company while working from home.
Welcome to Quickspin! How does it feel to be a member of the Quickspin family?
It truly feels like I've joined the company in an exciting time where there are a lot of developments and possibilities in the pipeline, and I can't express my joy enough to have been honoured with the role as Head of Platform.
Since many businesses are taking precautions by working remotely, Quickspin being one of them, how have you felt joining the company? Do you have any tips for someone in preparation for working away from the office?
This is the golden time to develop communication on all fronts. I strongly suggest that the implementation and establishment of a functioning work routine should come as the highest priority. That means, find the best tools, apps and scheduling systems in order to make that happen. Secondly, establish a balance between work-life and home-life. Since you may work from the kitchen table, that place can easily be associated with work when you sit to dine with the family. Remove the computer and mouse, and disconnect so that you feel a clear break from work. Third and last, make time for physical activities and hobbies. Try stimulating your creative side, and as you may already know, exercising helps create new brain cells, so you see, it's a win-win.
Could you describe your role at Quickspin?
I will start by taking over the personnel responsibilities for the platform team, at the same time as I am slowly introduced into the platform migration program. I will eventually take over the operational leadership of this program completely as Head of Platform, and continue to drive the program forward together with others involved and the project managers for the different initiatives.
What have you done before you started with us?
A decade is a long time to hone a profession, thankfully my path was carved into the world of iGaming through pure interest. I've worked for more than ten years at NetEnt in various roles, and previous to that I spent a decade within the finance industry mainly as a consultant where I developed an interest for platforms.

Can you tell us a little bit about the platform project?
Quickspin has since 2013 collaborated with Relax Gaming, using their platform, until 2019 when Quickspin bought a carbon copy of that platform, in order to create the Quickspin Platform. We are in the midst of migrating from the old to the new platform, and with that comes a lot of work. This process has already started and we are very hopeful it will run as smooth as possible. In the end, this is a very positive and much-anticipated change, which means we will have more control over our own product.
What are you looking forward to the most in the coming months?
I'm looking forward to meeting all new colleagues in a traditional office environment, however, I've heard through the grapevine, and seen that the Quickspin, resembles nothing like what one would call a "normal office". It seems like a creative space, and apart from that, I also look forward to seeing the platform migration working successfully, starting with the first migration later this summer.