May 11, 2020
Our next three games
We have three exciting months ahead of us, packed with awesome slots, features and themes that will quench the thirst for all types of players.
Prepare to be transported to the heyday of 1950's America, hunt for treasures and valuables true Indiana Jones style and get whisked away to a colourful and prosperous world filled with hopping vampires. You can trust us to never leave you bored. Make sure to tune in on our press releases for all upcoming releases here on Quickspin.
Diamond Duke
Release date: 12th of May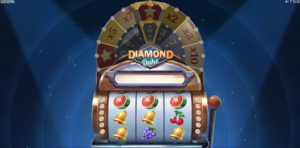 Classic diamonds, sevens and cherries – Diamond Duke is a real nostalgia trip!
With a look and feel inspired by 1950s jukeboxes, this game will transport you to the heyday of American diners and classic cars with chrome and wings. Why not cruise to the diner for some pancakes and milkshake?
Diamond Duke captures the essence of a physical slot machine with all the tactile sounds and effects that contribute so much to the real machine feels. And the symbols, the animations, and the music really make it feel like you're playing an old-school slot. This 5-line, the 3-reel slot boasts high volatility, a super valuable diamond symbol, two bonus wheels, and a Pick & Click bonus for players who like great highs and lows – and you can win up to 8,000 x your bet!
FULL GRID WIN
If you manage to fill the entire reel grid with the same symbol, this will pay out all the lines – plus a spin on the Multiplier wheel!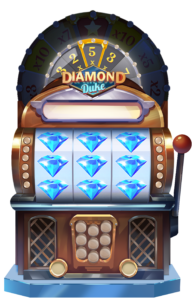 WHEEL FEATURES
Any multipliers that you win during the Wheel feature will multiply the entire amount! This means that a multiplier of x5 combined with a multiplier of x10 will multiply the entire win by x50.
When you get 2 Wheel Scatter symbols, you will get a spin on the Bonus Wheel. This wheel will spin and award one of the multipliers (x2, x3, x5, x7, or x10), or the Pick & Click bonus game.
When you get 3 Wheel Scatter symbols you get 1 spin on the Multiplier Wheel, This wheel will spin and award one of the multipliers (x2, x3, x5, x7 or x10). And 1 spin on the Bonus Wheel.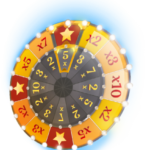 The Pick & Click bonus game can be triggered from the Bonus Wheel and contains coin wins that are based on your bet.
Stage 1: Between x2 and x7 bet.
Stage 2: Between x3 and x15 bet.
Stage 3: Between x5 and x100 bet.
Each stage has a "Collect" option that will end the bonus game if selected. Stage 1 and 2 have an "Upgrade" option that will reset the Pick & Click to the values of the next stage.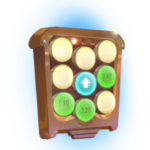 Arcane Gems
Release date: 9th of June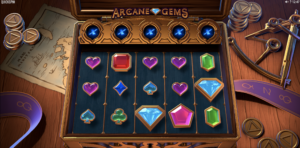 Time to go hunting for some bling – our June release is a treasure box filled with diamonds, jewels, and other valuables! This is super fun and easy to play slot with high definition 3D graphics that pop! Your goal is to fill the screen with valuable objects – and if you lock a full column along the way, you'll unlock the multiplier (get up to 25x in the base game!).
In addition to the awesome multiplier, this game also boasts free Respins when you get a winning combo, plus a chance to win 5,625 x your bet for maximum exposure. And what will happen if you manage to lock all symbols on the screen? That's our little secret – you'll have to play to find out.
ARCANE LOCK MECHANICS
Any winning combination in a base spin triggers Arcane Lock Mechanics. In Arcane Lock Mechanics, the highest winning symbols lock in place and any other winning symbols are paid immediately. Respin continues until no more of the highest winning symbols land. The total win is paid out at the final respin.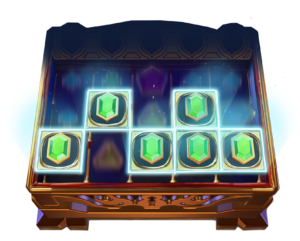 ARCANE MULTIPLIER
Filling a full column with locked symbols awards a random column multiplier between 2 to 5. The total multiplier is the sum of all awarded column multipliers. The maximum total multipliers can be up to x25 if there is a full-screen of locked symbols. The maximum full-screen prize is 5625 x Bet.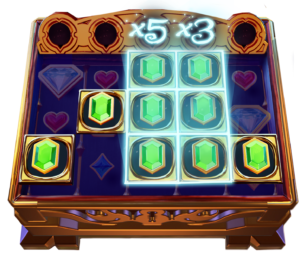 Vampire Senpai
Release date: 14th of July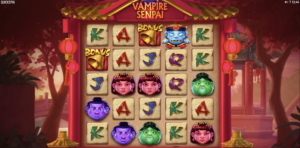 Get whisked away to a colourful and prosperous world filled with hopping vampires. You heard right, our July release is inspired by Chinese folklore, where these undead creatures, the "Jiangshi" appear with outstretched arms and stiff posture, preying on humans to absorb their life force.
We've placed a more comedic tone on this traditionally dark theme packed with plenty of suspense and anticipation. Included is a base game mystery feature randomly creating 3-9 additional Talisman Wilds. The game gets a whole lot darker in Free Spins and after landing one or more Jiangshi Wilds, they will hop around, sinking their teeth into any Medium human symbol that appears next to them, creating… you guessed it, more wilds! This game boasts exciting features, rich graphics and eye-catching effects that pop – this is the second time we've created a 5×5 layout which will definitely make this slot live out its full potential! The invigorating colour combinations will undoubtedly leave your soul fulfilled with the excitement of what's next, who knows what The Jiangshi's got in store for you.
Features
TURNING WILD
Any Jiangshi Wild symbol landing on the reels converts any surrounding Medium symbol into the corresponding Turned Wild symbol. Any Turned Wild symbol also converts any surrounding Medium symbol into the corresponding Turned Wild symbol. The conversion continues as long as there are surrounding Medium symbols.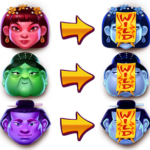 TALISMAN MYSTERY WILDS
On any spin, there is a chance that 3-9 Talisman Wild symbols appear on reels 1-4. Talisman Wild symbols do not naturally appear on the reels in the base game.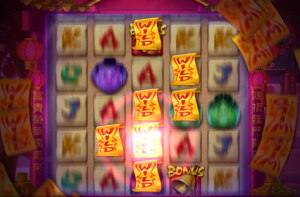 REANIMATED FREE SPINS
3, 4 or 5 Bonus Scatter symbols award 7, 9 or 12 free spins respectively. Any Jiangshi Wild symbol landing will remain on the reels for the entire free spins and hop to a random reel position at the beginning of each spin. Talisman Wild symbols appear naturally on the reels in the Reanimated Free Spins.



Any Talisman Wild symbol landing in the Reanimated Free Spins is locked for the entire free spins. Each Jiangshi Wild or Talisman Wild landing awards an extra free spin.