February 21, 2018
Quickspin officially-named as a Great Place to Work!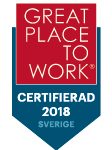 Quickspin was judged on a survey of our employees' experience of trust, pride, and camaraderie in their day to day working lives, as well as an evaluation of our workplace culture through a "Culture Audit" conducted in November.
Securing the certificate highlights just how great it is to be employed here and reflects the measures we have put in place to make work as relaxing and enjoyable as possible.
These include regular social events, access to the highest-quality technology to maximise creativity, and an ultra-modern office space – not to mention our famous monthly Q Days!
Quickspin's HR Manager Sandra Lindberg said: "We're very proud to have been given the Great Place to Work certification. The well-being of our staff is a high priority for us, and we've spent a lot of time making our culture comfortable to allow us to flourish, so we can produce high-quality content for our partners.
"We firmly believe that happy people develop great slots, and this latest achievement shows we are putting the right steps in place to help both employees and the company grow to new levels."
Each year, Great Place to Work analyses the culture of over 6 000 organisations in 51 countries around the world. Among the feedback we received from the audit was: "Quickspin appears to be a company that puts people first, works closely in teams and is good at involving employees in their work.
"They have strong values and team spirit and have managed to create structure among many things throughout rapid growth. Quickspin have a lot of potential!"
Fancy seeing for yourself by joining the Quickspin team in either our Stockholm or Malta offices? We have plenty of opportunities available, and you can find out more by clicking here.