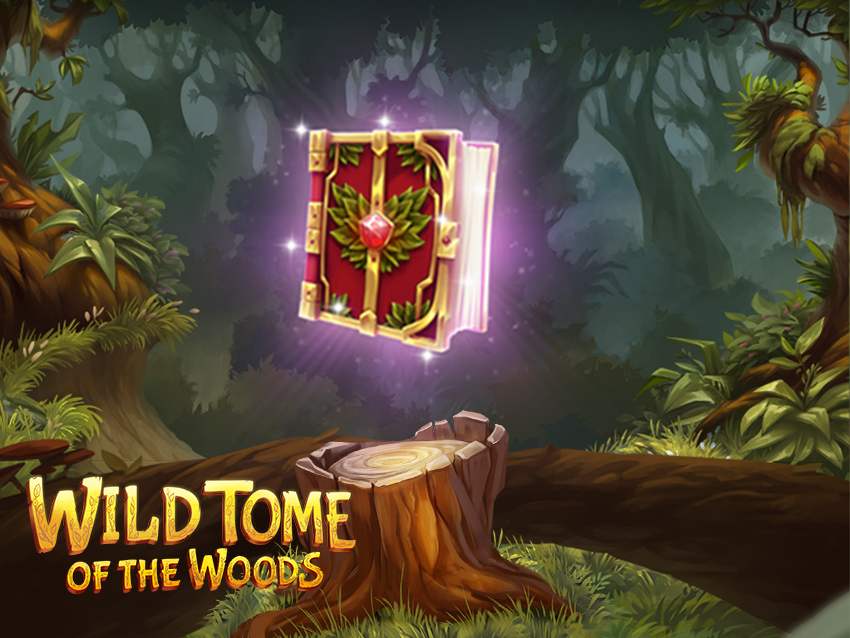 September 10, 2019
Quickspin's Wild Tome of the Woods will whisk you away to a magical woodland
Stockholm, September 10th, 2019 – Swedish slot specialist Quickspin, a Playtech Group company, has just released Wild Tome of the Woods – their tenth slot of the year.
Wild Tome of the Woods will whisk players away to an ancient and magical woodland with wonky trees and magic potions. Further expanding Quickspin's portfolio of fun-filled games, this 4×6 slot with 26 bet lines combines beautiful design with modern game mechanics and the chance to win big.
The exciting Wild Tome feature will turn other symbols into Wilds or new Wild Tomes, creating truly magical amounts of Wilds. And if players manage to fill the entire grid with Wilds, it will trigger the All Wilds Win which will pay 1,000 x the bet.
All the fantastic gamification tools in the Quickspin Promote catalogue will be available from day one.
Erik Gullstrand, Chief Product Officer at Quickspin, said: "Wild Tome of the Woods is a super fun one-of-a-kind-adventure that should appeal to lots of different players!"
"And if you want to add an extra level of engagement for your players, why not add a challenge to the game and let the armoured spinion explore the magical forest? Challenges are a really great way to give a little back to your players by giving them some gameplay 'on the house.'"
**Ends**
About Quickspin
Quickspin is a Swedish game studio developing innovative video slots for real money online gambling and free to play social markets. The aim of our 100-strong team of gaming industry veterans is to cause a market-changing shift in quality and innovation by creating the kind of games that we as players would love to play. Quickspin games are integrated with our customers' casino through our own platform which includes ground breaking promotional tools to help attract and retain players.
About Playtech
Founded in 1999 and premium listed on the Main Market of the London Stock Exchange, Playtech is a technology leader in the gambling and financial trading industries.
Playtech is the gambling industry's leading technology company, delivering business intelligence-driven gambling software, services, content and platform technology across the industry's most popular product verticals, including casino, live casino, sports betting, virtual sports, bingo and poker. It is the pioneer of omni-channel gambling technology through its integrated platform technology, Playtech ONE. Playtech ONE delivers data-driven marketing expertise, single wallet functionality, CRM and responsible gambling solutions across one single platform across product verticals and across retail and online.
Playtech partners with and invests in the leading brands in regulated and newly regulated markets to deliver its data-driven gambling technology across the retail and online value chain. Playtech provides its technology on a B2B basis to the industry's leading retail and online operators, land-based casino groups and government sponsored entities such as lotteries. As of June 2018, through the acquisition of Snaitech, Playtech directly owns and operates the leading sports betting and gaming brand in online and retail in Italy, Snai. Snaitech operates a B2B2C model as a service provider, allowing franchisees to utilise the Playtech technology stack in the retail environment while operating the leading brand, Snai, directly online as a B2C business.
Playtech's Financials Division, named TradeTech Group, is a technology leader in the CFD and financial trading industry and operates both on a B2C and B2B basis.
Playtech has in total c.5,800 employees across 18 countries and is headquartered in the Isle of Man.
www.playtech.com
For further information please contact:
About this press release – info@quickspin.com.
About Quickspin – Linn Lange at linn.lange@quickspin.com.
Playtech plc
James Newman, Director of Corporate affairs
Headland Consultancy
Tom James c/o Headland Consultancy
+44 (0)20 3805 4822