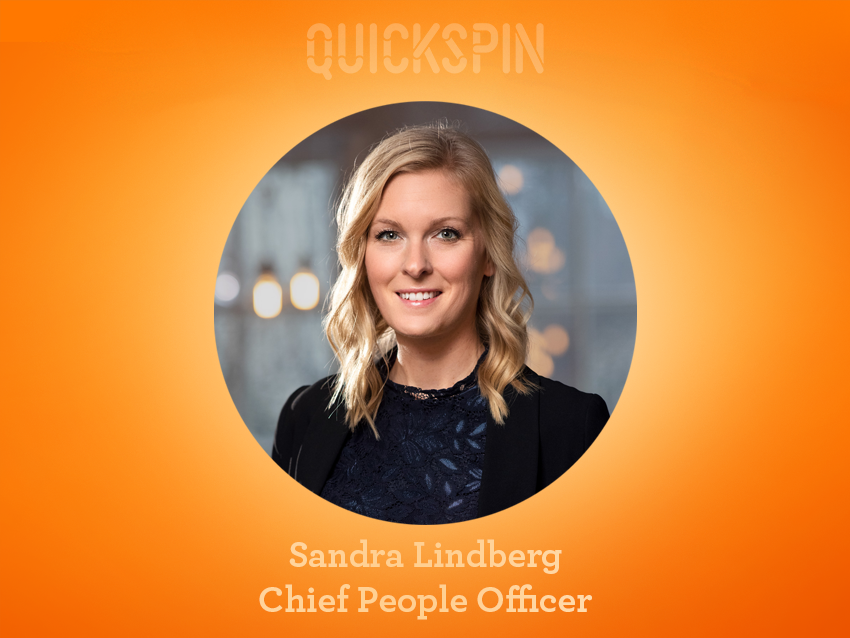 October 7, 2020
"Focus on what the company has achieved and create shared visions and goals for everyone to get excited about"
This year has no doubt been a challenge for many businesses all over the world, as we've had to adjust to a 'new normal' with remote work and digital solutions. At Quickspin, we have our fantastic HR team who worked hard to make everything easier for our employees in the short term, whilst at the same time changing our processes and routines to equip us for a future with more digital meetings and events in the long term.
We've sat down for a chat with Sandra Lindberg, our Chief People Officer extraordinaire, to hear her thoughts about the benefits and challenges of remote work, how it affects the culture when you can't see each other in real life, and if she has any advice for companies who are struggling with this digital transition.
So, what was it like to transition everyone to work from home, practically overnight?
"I think working from home has gone really well! As a company, we adapted and readjusted in a matter of days in March. Everyone was on board and contributed to making sure our output and ongoing work would continue to run smoothly."
"Even before the pandemic, we had a flexible work culture with the opportunity to work from home, but it's completely different when it needs to be changed to a full-time situation. And I'm sure many of us really miss our colleagues at the moment."
Sandra continues talking about how Quickspin as a company is always working actively on building a strong culture and team feeling, so this experience really put our culture to the test in a critical situation.
"We've had Quickspinners who worked remotely in the past before the pandemic, and I do believe we've handled that very well. But this experience has given us an opportunity to reflect on what's really important, we've seen the benefits as well as the challenges in trying to maintain the 'family feeling' that we have."
"We've had to make changes to existing routines, and it's definitely been a journey to figure out how our culture can be adapted when we're used to seeing each other often and have fun together, to now only seeing each other digitally."
She says that for her personally, as Chief People Officer, it's become even more important to keep an eye on trends and data collected from the organisation, to enable us to work proactively. In addition, she's been collaborating with external networks, as well as people within the company, to get new input and learn from them.
"In the beginning, it was like we were trying to do all the usual things, but digitally – After Work events, coffee breaks, lunches, and so on. But you quickly realise that even though they're a lot of fun, those are not the things that shape our culture, and it's not what has the biggest impact."
"Having all our colleagues remotely has made regular check-ins, feedback, and working on the collaborative side of things necessities. Although we had those procedures in place before, they've grown even stronger and have been manifested on a deeper level now as they've become absolutely essential. Like the concept of 'communication' – you think you're giving people enough information, but you can always give a little bit more and be even more clear."
As she points out, our vision is to create the best employee experience for everyone at Quickspin, so we make sure to include all our employees in this work. One of the actions we've taken this year to improve our remote work situation is implementing Winningtemp. Can you tell us more about this?
"Yes, it's an AI-powered tool that lets us collect real-time data and actionable insights as employees answer a few quick prompts via weekly emails or Slack integration. As it requires inclusion from every employee at Quickspin, it's made our work even more agile and proactive and has given us a better overview of the organization. "
"It helps us measure different areas of focus, and to analyse segments, the well-being of our employees, teams and departments, their engagement, and more."
"Instead of looking at the company as a one size fits all, we can adjust and create actions depending on the shifting needs of the organisation. It's helped us to use digital check-ins, clear OKRs as a goal-setting method, and to gather all our learning and development in one place."
Asked what she's most proud of during this transition, she emphasises how quickly we adjusted to working completely remotely, but says that she's even more proud of the fact that so many employees have contributed with innovative and clever solutions to continue to improve our work.
She adds that it's difficult to imagine things ever going back to the way things were, to the 'old normal', and she's confident that Quickspin as a company has what it takes to keep implementing new systems and routines, even after the pandemic.
"Like so many businesses, we've experienced the positive effects as well as the challenges of working remotely. But since we already had a modern approach to remote work before the pandemic, this wasn't new to us. We believe that a flexible work life is a necessity in order to be the best version of yourself, and to have the motivation and commitment needed in your work."
The downside to this situation, she adds, is that it's made more people lonely. And if you're someone who prefers writing on a whiteboard, it's perhaps not that easy to run a digital workshop.
"There are many benefits to challenging your 'normal' way of working, but the interactions with your colleagues, the coffee breaks, or having lunch together – lots of people miss that. When you have a culture that's so strongly rooted in the people, and the joy and energy they get from each other, it's definitely a challenge when you can't see each other all of a sudden."
She thinks we've done a good job in finding digital solutions to seeing each other outside work meetings. As an example she mentions the summer party in June, where we sent everyone a summer present and a goodie bag to their homes, and a stand-up comedian gave a digital performance.
So when it comes to the challenges of working remotely, we ask, what advice would you give to any company who's struggling with this?
"I would advise them to find the things that will make it easier for everyone to do their job. New channels of communication to inform everyone about your visions and goals, as well as the current status of these things. It's important with clear communication, openness, and to include everyone along the way."
"And try to have fun together, even if you can't see each other in person all the time. Book regular one-to-one meetings and do quick check-ins. These things that were so easy when you could just say hello in the office, they need to be transferred to the digital world as well."
She stresses that it's important to create a feeling of unity and team spirit – that you're 'in this together'. Ask questions and get your employees involved in the work; there are lots of creative and innovative solutions if you pull your resources together. And finally, she adds, it's vital to have a solid foundation of trust.
"Try focus on what the company has achieved and create shared visions and goals for everyone to get excited about. When people are allowed to be autonomous, have an input, and feel included, their commitment and enthusiasm will thrive."
When asked what Sandra is looking forward to the most at the moment, she says:
"I really wish I could give all employees a hug! But that will have to wait for a while. For the time being, I just can't wait to see everyone in the office again."
She adds that it's exciting to keep shaping Quickspin to the 'new normal', and to find the strength in our culture based on our new circumstances.
"I always like change, even if it can be quite tough when you're in the middle of it. But I'm convinced that everything we've learned and the adjustments we've made during this pandemic will only makes us stronger as a company."