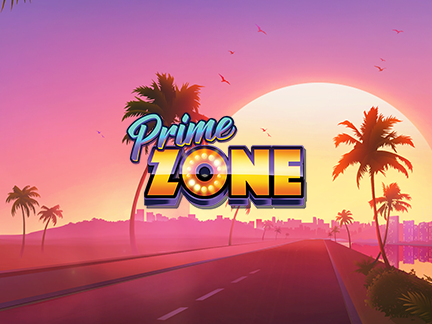 July 8, 2019
The story behind Prime Zone – a slot for the true casino fans
Ah, sweet July is here and it's pure bliss to those of us who live in the northern hemisphere. If you're wondering what to do during these long, hot summer nights, we've got you covered with our next release Prime Zone!

If you're a fan of classic casino games, you're gonna love this one! Picture a city at night, with silhouettes of palm trees against the purple sky. In walks the legendary Rat Pack – Frank Sinatra, Dean Martin, and Sammy Davis Jr. Ok, maybe not, but it certainly feels like they could!
This stunning slot combines a stylish theme with exciting features! Multiplier Wilds can multiply a win by up to 5x, and you get to choose your own Free Spins volatility with the bonus picker (we've also added a mystery mode to the mix)!
The producer behind our stylish July game is our Head of Games, Mark Smith, and this is what he had to say about the idea behind this slot:
"At the team's first brainstorming session for what was to become Prime Zone, we started by reviewing what games were currently out on the market. What we observed was page after page filled with buffaloes, pirates, gems, Egyptian relics, and Asian fortunes.
It dawned on us that we have the same wide variety of themes in our portfolio, which is fantastic, but it made us think that maybe it was time to add an awesome traditional video slot for the true casino fans. This seemed to be missing in the marketplace.
So, we decided to go 'back to basics' and create something special just for them. We had a lot of fun developing this game, and the result is a straightforward 10-line, mechanical-looking slot with upbeat music and non-stop excitement – Prime Zone!"
Prime Zone will be released tomorrow – 9th of July.