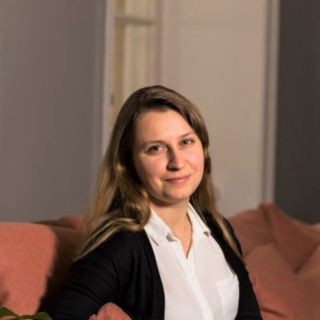 May 15, 2019
Tetyana Matvyeyeva shortlisted for 'Young Leader of the Year' in WIG Awards 2019
Stockholm, May 15th, 2019 – Tomorrow is the big day, the Women In Gaming Diversity Awards 2019 winners will be revealed!
Our fourth and last individual finalist for this year's WIG Awards is Tetyana Matvyeyeva, Agile Project Manager, Market & Integrations, who's been shortlisted for a 'Young Leader of the Year' award!
Since joining the Quickspin family in 2017, Tetyana has impressed us every day. She's always impeccably well prepared for everything she does, and she has the ability to build instant trust in a completely natural way. She never hesitates to stand up for her team under pressure, but it's always done with a smile and razor-sharp arguments.
Although she transitioned into her current role fairly recently, Tetyana has already managed several projects way beyond any expectations. She's introduced and implemented agile frameworks, planned and executed a new Market & Integration team, and created vital parts of Quickspin's QA strategy and improvements roadmap.
Due to her excellent analytical skills, unwavering team spirit, and fearless approach to large amounts of details, she's become the obvious choice when staffing projects within new strategic market entries.
The WIG Awards will take place tomorrow, on the 16th of May, in the Savoy Hotel in London. We wish Tetyana the best of luck and will keep our fingers crossed for her!
—
Quickspin has received a total of 6 nominations in the WIG Diversity Awards 2019! Read more here: https://quickspin.com/news/women-in-gaming-diversity-awards/