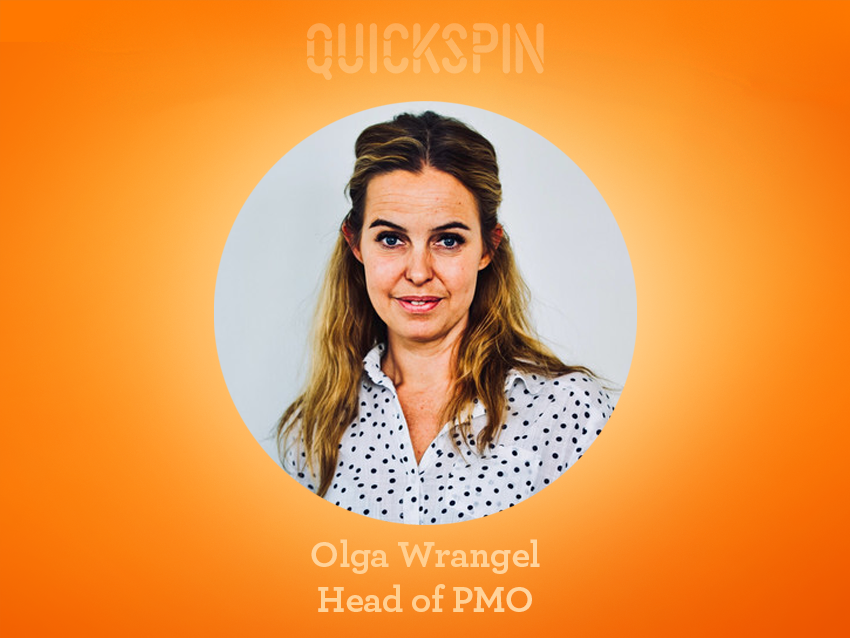 July 15, 2020
"The transformation is happening all around us" - Olga Wrangel, Head of PMO
To work in an agile environment means to minimize risk and maintain high quality and efficiency. For Olga Wrangel and her team at Quickspin, keeping a lookout for more agile, continuous improvements is something deeply embedded in their everyday routine.
"Quickspin is built on agile teams. We have an astonishingly high level of freedom in how we work and with that comes a lot of responsibility. This is in our DNA and I'm proud to say that not even during the ongoing pandemic with all teams working remote, has this changed"
Olga Wrangel works as Head of PMO (Project Management Office) and has been with Quickspin since 2015. Olga has a decade-long experience at a big worldwide consultancy firm, but she longed for something smaller, more familiar and creative. Today, five years later that image still stands accurate, "It's pure magic being surrounded by so many smart and talented people who constantly challenge the status quo."
Quickspin consists of a diverse range of individuals, with diverse backgrounds and experience. Studies from Mckinsey, Credit-Suisse and Tuft University have shown that companies that are more diverse are often the ones performing better. At Quickspin, a transformative, inspiring and innovative workspace is something that is deeply rooted in our core, which goes together with our mission to create a thriving, diverse work environment for all employees. Olga is a great inspiration, and her team and their efforts are proof that this is possible.
When asked what is the most difficult thing about her job, Olga said "We run a pretty tight ship which means we constantly need to prioritize what to focus on. Sometimes that is a lot harder than it sounds. I have the luxury of having a really supportive and wise manager, making me feel empowered and able to pull through".
What is your best advice to someone who would like to get some agile inspiration?
"Two years ago, Quickspin's PMO made fantastic recruitment, when hiring a senior project manager called Tomas Rybing. Tomas is a true agilest and on his blog, you'll find all kinds of agile reading inspiration. One book I warmly recommend is The Phoenix Project, written by Gene Kim, Kevin Behr and George Spafford and was originally released in 2013."
There are currently a lot of exciting developments in the pipeline, one of them being the build of the Quickspin platform, which is a true milestone. We have earlier used a third-party solution but will now have full ownership from product to customer. She says "It's really exciting to follow the platform program and it's progress, seeing the result of hard work and expertise is truly inspiring" she continues "My team and I help with planning and structuring and try our best to solve obstacles along the way."

"Quickspin has been ever-evolving since the start in 2011, we have constantly been optimizing and improving our procedures. For us in the PMO team, it is important that we can give our support to all teams within the organization. Right now, transformation is happening all around us and I am positive that the future Quickspin will be an even more light-footed, alert and innovative company than we are today."
What do you see as the biggest challenge within the tech industry today?
"A big challenge is attracting more women into tech companies. This is something you need to work on proactively. My gut feeling says that many companies would bloom with more female developers. I believe that diverse workplaces will be the way to attract and retain top talent in the gaming and tech industry."
Having fun at work goes a long way, for Olga, there are so many great memories to get nostalgic over. "I've become friends with people at Quickspin who I never would have met outside work, and that's what broadens one's horizons and makes life a bit more interesting!"

When asked why someone should start working at Quickspin, Olga Wrangel finished with: "If you dislike trying new things, setting your own agenda, sometimes starting from a clean slate, I don't think Quickspin is the place for you. But if you enjoy being surrounded by creativity and appreciate a fast-paced environment, freedom and responsibility you should definitely check out our career page!"