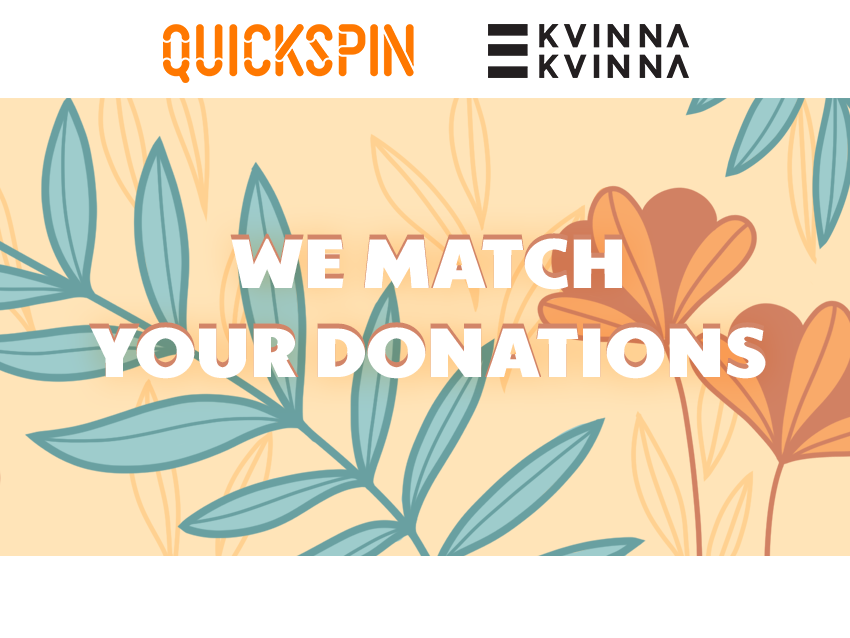 March 8, 2021
We match your donation!  
International Women's Day is a global day celebrating the social, economic, cultural, and political achievements of women. The day also marks a call to action for accelerating gender parity.
We strive to make a difference, hence we created a foundraise to the Kvinna till kvinna foundation. Together with all our friends and partners, we are hoping to make a difference globally. For every donation made – Quickspin will match that amount!
The Kvinna till Kvinna Foundation promotes women's rights in over 20 conflict-affected countries in the Middle East, Africa, Europe and the South Caucasus. We do so by supporting more than 130 local partner organisations across the world. 
A world of sustainable peace based on democracy and gender equality, where conflicts are solved without violence. A world in which human rights are respected and everyone can feel safe and secure. A world in which women have influence over decision-making and participate fully and effectively in society's development. 
If you donate to the Kvinna till Kvinna foundation before 14th of March and mark your donation 'Quickspin' we will match the amount! 
Recipient: INSAMLINGSSTIFTELSEN KVINNA TILL KVINNA
Bank:  Swedbank AB, Landsvägen 40, 172 63 Sundbyberg
SWIFT/BIC Code: SWEDSESS
Account Number (IBAN): SE58 8000 0890 1169 3678 7495
Swish: 90 18 003
Read more at: kvinnatillkvinna.org/