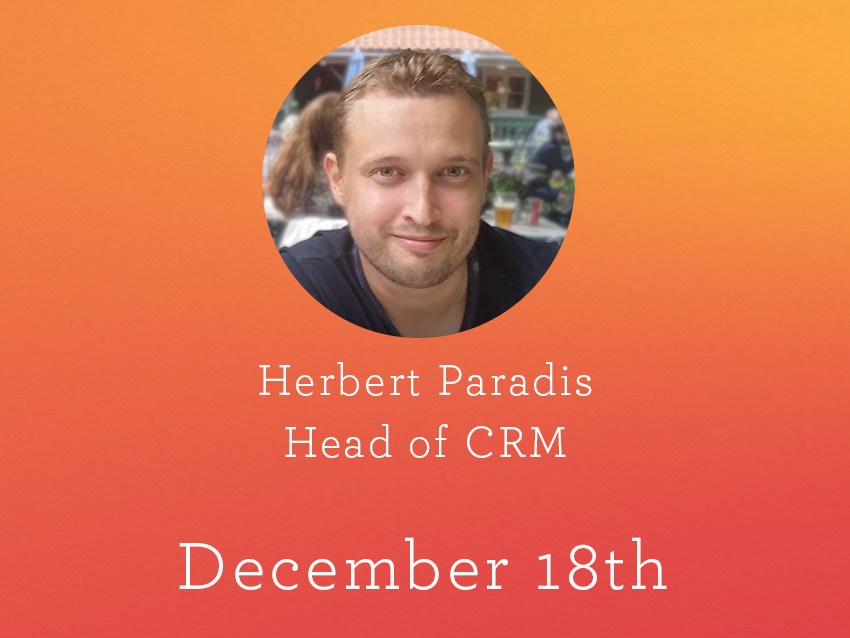 December 18, 2019
We've met up with Herbert Paradis to find out more about him and Quickspin Promote
Today, we'd like to treat you to an interview with Herbert Paradis, our Head of CRM. Herbert and his team are doing an amazing job with the Quickspin Promote catalogue, creating innovative gamification tools like Challenges, Tournaments, and so much more. And there will be even more exciting innovations from them in the new year, so stay tuned!
Hi Herbert! So to start off with, what do you do as Head of CRM at Quickspin?
My role involves creating new cool features and promotional tools for our clients. I work closely with our Account Managers and partners to figure out how to develop our Quickspin Promote tools and features in the best possible way.
Sounds really fun! Could you tell us a bit more about Quickspin Promote?
Our Quickspin Promote catalogue is a great way for us to help our operators, as it gives them an opportunity to offer a gamification experience for their players without having to develop any tools themselves. Within this catalogue, we offer a wide variety of promotional tools.
At Quickspin, we pride ourselves in making great games. But let's be honest, the competition is fierce and many of our competitors create very good games. So we wanted to add an extra layer to the gaming experience and give our clients and players something that would make our product seamless.
I feel like we excel at this. We have a wide variety of promotional tools and we always strive to create new ones that are fun, unique and rewarding. Right now for instance, we offer Achievements, Achievements Races, Tournaments, Flexible Free Rounds, Feature Trigger and Challenges.
What are you most proud of when it comes to Quickspin Promote?
What makes me most proud about Promote is the development team that builds the tools. They're always very creative and daring in what they do. They really don't want to create run of the mill promotional tools, and they're committed to creating unique features that have a very distinct feeling to them.
We want to have a very playful and soft presentation of our tools. The players shouldn't be driven by the rewards they get, but instead by the interactive graphics and engaging mechanics. The main motivation should be the fun of it all!
If you could choose just one tool from Quickspin Promote, which one would it be?
I would say Challenges. It offers truly unique mechanics on the market, and it gives our partners a new and creative way of building loyalty with their players.
What's the best thing about Challenges? 
I would say that the best thing about Challenges is that it creates a great gamification experience for the player.
As a player, you get an extra incentive when you play. You stop chasing the wins and you need to look at the game play instead. Your mission is to get through a maze and over to the other side, and when you complete your mission, you'll have a reward in your Quickspin wallet.
Challenges is available on most of our games right now, and I can really recommend it if you're looking to build loyalty with your players. A few months ago, when we measured the results of an operator running a Challenge, they had seen an increase of 172% in game rounds played. This means that players stay on your site for a longer period of time, and you will gain loyalty.
What type of player was Challenges created for? 
It will work for all players! As an operator, you can segment and filter out which players you'd like to offer a specific Challenge to. And you can of course set the rewards according to the player segment too.
When completing a Challenge, the rewards you get can come in the form of Achievements coins. What do you think people appreciate most about Achievements?
Operators like Achievements because it's really easy to add to their portfolio, but it also adds a lot of value for them and their players. It's a simple yet efficient way to communicate with your players. And players love it because it's a fun and rewarding feature.
Which Quickspin game is your favourite?
Tigers Glory has been my favourite ever since its launch. However, recently I've become really hooked on our November release Golden Glyph. Reactor games have always been fun to play, and I think this is the best one on the market. I love the power-up features, especially the Golden Scarab. Seeing the potential in the Free Spins Bonus gets me super excited every time!
Great choices! And last but not least, what are you excited about for 2020?
I'm really looking forward to developing our next new feature! I can't say much right now, but it will be the perfect complement to an already great and exciting