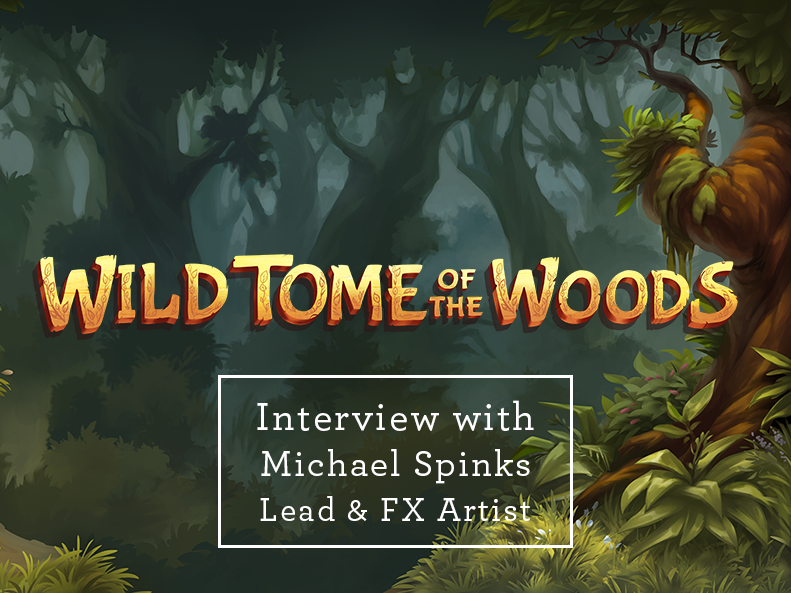 September 2, 2019
Wild Tome of the Woods – behind the scenes
Our upcoming game Wild Tome of the Woods will whisk you away to an ancient woodland filled with quirky animals, wonky trees and magic potions.
This fun-filled 4×6 slot with 26 bet lines combines beautiful design with modern game mechanics and the chance to win big!It's a charming adventure that expands our portfolio of character games, which previously includes hits like Goldilocks and Big Bad Wolf.
The exciting Wild Tome feature will turn other symbols into Wilds or new Wild Tomes, creating truly magical amounts of Wilds. And for the chance to win BIG, fill the entire grid with Wilds to get the All Wilds Win which will pay 1,000 x your bet!
Interview with Michael Spinks
With so much going on, it must have been really fun to work on this game, right? We sat down with Michael Spinks, Lead Artist and FX Artist on Wild Tome of the Woods, to find out more. This is what he had to say:
"We started off with three ideas at first. One was a golden goose tale in a rich woodland, and another one was a magic witch in a twilight forest. Then we ended up combining the two, taking the rich lushness from the woodland and the Wild Tome and potions from the witch.
When I was designing this game, I really wanted to give it a fun and happy feeling, and I wanted to give the book as much personality as possible. And being from Nottingham myself, I also wanted it to feel like a magical Sherwood forest.
To begin with, I set out to create three different worlds to base the game inside of, each with its own characters and colour schemes. I always take inspiration from lots of different sources in my work – various artists, concept work, strong themes – and that was the case for this game too.
I worked with a combination of software from the Adobe suite, mainly Photoshop and After Effects, plus another software called Spine Animator. I started off creating the concept and defining things in Photoshop, and then I used a mix of After Effects and Spine to finalise everything and make it ready for the game.
It was really fun to work on this game! I really like creating animations, so bringing the book to life was extra enjoyable for me. I'm particularly happy with how this feature turned out, and I really enjoy seeing the book burst open and flick through the pages. It was also the most creatively challenging, which means I've learned a lot in the process.
Every game comes with its own set of challenges, whether it's Wild Tomes, exploding stone pillars, or flying robots. You just need to watch some YouTube tutorials and take time to experiment – that's how you get the best results!"
Quickspin Promote and markets
Wild Tome of the Woods will be available in all markets where Quickspin is currently present, including the Swedish market. In Wild Tome of the Woods you can use Achievements, Achievements Races, Tournaments and Challenged from our Quickspin Promote catalogue.
Herbert Paradis, Head of CRM: "Wild Tome of the Woods is a super fun and easy game that should appeal to lots of different people. And if you want to add an extra level of engagement for your players, why not add a challenge to the game and let the armoured spinion explore the magical forest? Challenges is a really great way to give a little back to your players by giving them some gameplay 'on the house.'"