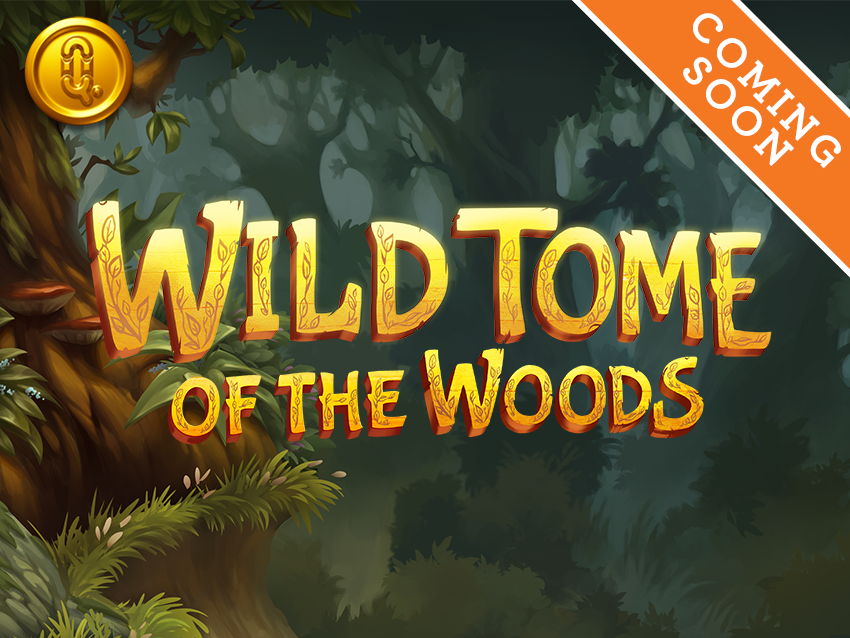 August 19, 2019
Wild Tome of the Woods combines magical character theme with modern game mechanics
Our September release Wild Tome of the Woods will whisk you away to an ancient woodland filled with quirky animals, wonky trees and magic potions. This slot combines a beautiful design with fun features, modern game mechanics, and the chance to win big (how about 1,000 x your bet?)!
If you like character games, you're definitely gonna love Wild Tome of the Woods. This charming adventure expands our portfolio of character games, which includes popular hits like Goldilocks and Big Bad Wolf.
This game is set in Whittlewood Forest, a former medieval hunting ground in Northamptonshire, where a reclusive wizard named Tom lives. But all his friends – the half frog/half newt Crikey, the fox Sylvester the 3rd, and the posh owl from Oxford named Eleanor – call him Middy (short for Midas) due to his life-long obsession of trying to turn things into gold.
Now his Wild Tome has started to turn random things into gold instead (including the wizard's friends)! So why not take advantage of the situation and grab some gold for yourself?
Features
Wild Tome
When you get one or more Wild Tome symbols in a spin, each Wild Tome will select one of the other characters or potions on the reels and turn both them and itself into Wilds!
There's also a chance that one of the Wilds will turn into another Wild Tome, which will then turn yet another character or potion into Wilds. This can go on and on as a chain reaction until you've converted the entire reel grid into Wilds!
And if you manage that, you'll trigger the 'All Wilds' feature which will pay 1,000x your bet!
As a Wild Tome will always turn itself wild, this game has no blockers.
Stacked reels
The reels contain lots of stacked symbols, so you can get some pretty good hits when you win. If you manage to combine stacked symbols with Wild Tomes, you've got the chance to win BIG!
Quickspin Promote and markets
Wild Tome of the Woods will be available in all markets where Quickspin is currently present, including the Swedish market, and all the fantastic gamification tools in our Quickspin Promote catalogue will be available from day one.
Herbert Paradis, Head of CRM: "Wild Tome of the Woods is a super fun and easy game that should appeal to lots of different people. And if you want to add an extra level of engagement for your players, why not add a challenge to the game and let the armoured spinion explore the magical forest? Challenges is a really great way to give a little back to your players by giving them some gameplay 'on the house.'"
Stay tuned for more info in the coming weeks! Release date: September 10th.