Challenges
Quickspin Challenges is a seasonally themed loyalty tool in the form of a mini-game, designed to add some extra fun and excitement to our slot games.
It's an engaging and immersive mini-game that's displayed above the slot, a bit like a bingo game. The players need to get a character through a maze and over to the other side, where a chest will open up to reveal a prize that you've determined. The spins in the slot game fuel the gameplay and unlock the pathway across the maze, one step at a time (or several, if you're lucky!).
We're extremely proud of this promotional tool and we believe it's a real game changer – literally! It's the perfect customer retention tool, designed to offer some extra excitement in our slots and to give your players the chance to enjoy the games even more.
Challenges add an extra layer of entertainment, where the players can win and unlock prizes in the maze – even if they don't hit that final big win in the slot game.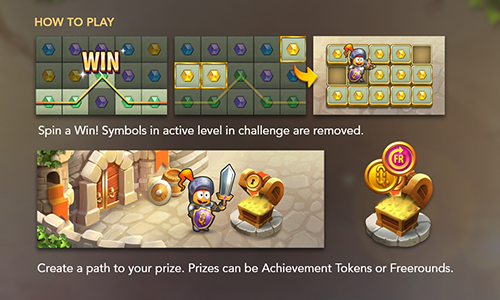 How Challenges works
The maze is a bingo-like feature that sits on top of the game. The goal is to get a character through the maze and over to the other side.
So, let's say the Q symbol is your active level, then you'll want to unlock all the 'Qs'. When you hit any winning combination of Qs in the slot game, it will unlock the matching symbols in the maze. As soon as a level is cleared, the character can walk through the maze, and the chest will open to reveal your prize! Then you can proceed to the next level.
On the left side of the screen, the player can see how many levels they've cleared and how much time is left to complete the challenge. But you can of course complete the challenge if you've cleared all the levels before the time is up.
The challenge is completed when all levels have been cleared. The player is then presented with a screen that summarises all the prizes they've been awarded.
Customization
Quickspin's Challenges offer tons of customization opportunities, so you can always adapt them to your needs. You can configure the time period, the themes, the prize type (free rounds or tokens), the prize value, the bet requirement, the competition period, and the amount of active levels (1-3).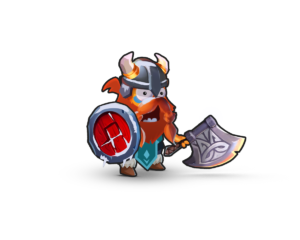 For instance, you can customise the themes with your branding, or use it to stay current in the season, like winter, spring, summer and autumn – this keeps the games fresh and exciting for the players!
Do you want to know more about Challenges please contact sales@quickspin.com