All Quickspin slots include 6 unique game events, which can be used to measure a player's success in a tournament (the points are triggered by the game events). For example, a player can get points every time a scatter symbol appears, or every time they get a win that includes a wild symbol.
Our Tournaments feature adds lots of excitement to the game, with an extra layer of interactivity that we're sure your players will love! We truly believe that gamification is the future, and Tournaments is a natural extension of our expertise in this area – it's the perfect customer retention tool!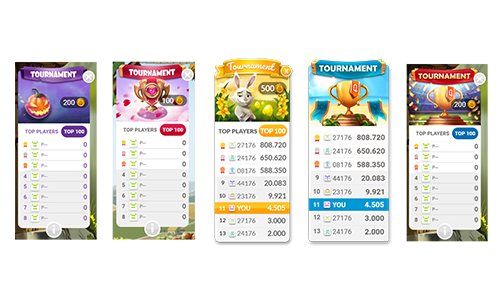 How Tournaments work
For example, if you want to set up a tournament in the game Big Bad Wolf, we can use any of the 6 game events that are included in the game. We can set up a tournament that gives your players points when the wolf scatter symbol appears, or when all the pigs turn wild. The players can win tokens, cash prizes, or any other valuable that you want to use as a reward.
The players can follow their positions and progress in real time on the leader board, which is a built-in widget that loads inside the game client (no need for any development or integration work on your part – tournaments are ready to use from day one!).
Tournaments can be easily set up for a limited period of time.