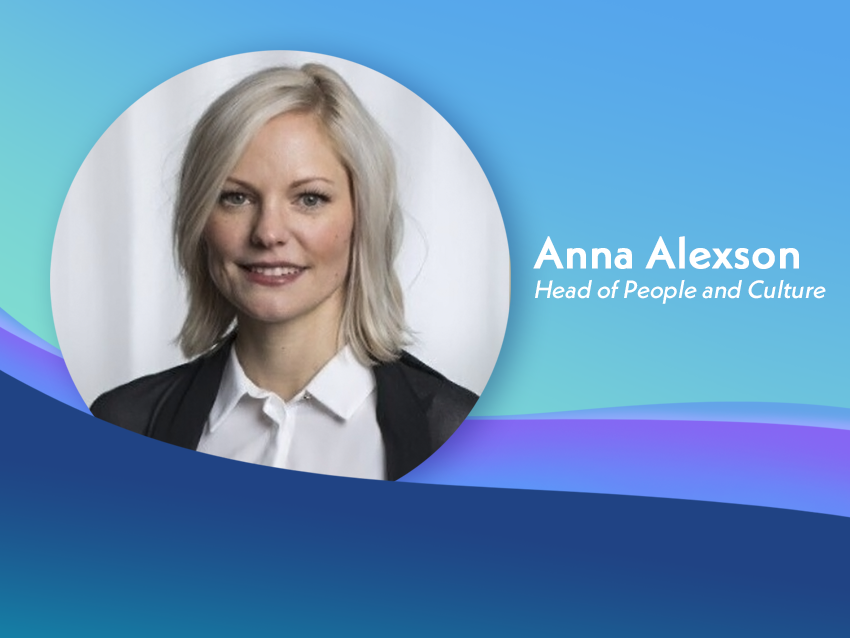 March 18, 2022
Anna Alexson, our new Head of People and Culture, shares her thoughts on diversity and inclusion 
A warm welcome to Anna Alexson, our new Head of People and Culture! Anna has been working with us part-time for the last few months, but she's been with the Playtech group for many years. Bringing a wealth of HR experience with her, she will play a key role in our continued growth journey moving forward. 
As Anna is quite the expert on people and culture, we sat down for a chat to find out what she had to say about these topics. In this interview, she shares her knowledge and expertise on diversity and inclusivity, the key to succeed with this work, how to make it a genuine part of your company culture, and more.  
Welcome as the new Head of People and Culture, Anna! What does this role mean here at Quickspin? And what stands out to you, compared to other companies? 
Thank you! To me, this role means being deeply involved in Quickspin's future journey, driving our strategic agenda from an HR/people plan perspective, and leading our fantastic HR team – all with an emphasis on further strengthening our diverse, inclusive, and collaborative culture. We also need to keep adapting to changes in the world around us, with new work patterns like hybrid, remote, or two days per week in the office.  
In addition, it means creating the right conditions for each employee to grow in a way that's supporting our organisation, brand, and culture, and to keep exploring ways to expand into new markets and grow organically. 
Quickspin is a unique company in many ways, with its autonomous leadership, high employee participation all the way from idea to decision-making, and managers and colleagues who are fully present and available, in addition to being a creative and exciting work environment in a fast-paced industry with tough competition! 
Previously, you've worked in one of Playtech's sister companies and in Playtech's global division, so you have an intimate knowledge of the organisation. What do you think will be the main difference now that you're here at Quickspin full-time? 
Entering into this new role, I'll be able to bring all my experiences and perspectives with me, which will enable me to do a better job as I have a large toolbox to utilise. 
Previous to this, I've worked in many different areas of HR, including operations, strategy, and in various projects, both in broader and more niched ways. I hope to use all of these experiences to help develop and strengthen Quickspin's processes, brand, and culture even more.  
The flat hierarchy and fast decision-making is an opportunity to do all this through employee participation and open dialogue. I want to work closely with my colleagues and help create an awesome team spirit within the company, and to bridge our collaboration with Playtech. 
I have a global perspective, from working in a large organisation represented in more than 26 countries, in a position where it was important to be flexible, sensitive to different needs, and solutions-oriented. I will continue to have a close collaboration with Playtech's various divisions and departments, which is very useful in our ongoing dialogue about entering new markets. 
What are you looking forward to the most in your new role? 
I'm looking forward to the entire journey ahead, with all the new paths and challenges. Working globally with growth, being highly present in the organisation and our various offices, and to work with a different perspective where Quickspin will have my full focus.  
I'm excited to drive our core values, which are the foundation of our fantastic culture and our recipe for success. Also, meeting my new colleagues and having great conversations with them. This includes my amazing team of highly skilled colleagues – it's going to be so much fun working with them, and I can't wait to see what we'll achieve in the short term and what we'll be aiming for in the long term!  
It's going to be incredible. I'm very proud to belong to such a diverse and inclusive team at Quickspin, as I can see the benefits of this every day. 
Which core issues are you most passionate about in your work? 
Everyone should feel included, as inclusion and belonging is something I and Quickspin care deeply about, and this filters through in everything that we do. Our focus areas come naturally to us, as we have a lot of diversity with many nationalities and a high level of gender equality. 
We want to maintain an inclusive culture where everyone feels empowered to shape their own work environment, where there's a leadership with agile teams and autonomous leaders, and a flat hierarchy with fast decision-making. This inclusive way of working focuses on your own work, transparency, open dialogues, listening, participating, and having an influence over your career development. 
Can you tell us more about what Quickspin does to keep Diversity & Inclusion such a high priority? 
Diversity & Inclusion is the foundation of our company culture, and it seeps through in everything that we do and who we are as a business – we are our culture. Our inclusivity work is driven from a management level and it's an essential question about rights and responsibilities, in order to create an equal business and society. 
What is the key to succeeding with your Diversity & Inclusion work? 
That everyone gets to be included in this work. At Quickspin, everyone has been involved in creating our core values, processes, and strategies, and I think it's key that we're all included in making decisions and influencing our inclusivity work. 
In the HR team, we can help by offering a transparent look into data that can be used to discuss the existing situation, together. What are our barriers? What does the data say about how equal we are? You need to have the courage to invite conversations and questions, to eliminate the barriers that are preventing you from succeeding with your diversity work. 
However, this is not "just" an HR matter, this is a matter of company culture. And that's something that every employee has to work on all the time – we're all cocreators of our culture. 
If you could give one piece of advice to management teams and employees respectively, on how to take diversity and inclusion from a piece of paper to genuinely being part of a company's culture, what would you say? 
In an organisation, inclusivity and involvement should be major focus areas in the overarching processes and a natural part of all strategic work – they should be a solid foundation of your culture. This foundation includes things like developing talent, educational opportunities and professional development, recruitment processes, leadership and management profiles, compensations, benefits, how you work with core values and company culture, and more. 
At HR, we can contribute to this work by gathering and presenting data. What does it really look like in the organisation? We need to ask the right questions to get the right information, but we also need our leaders to use this information to make good choices – everyone needs to be involved.  
That's how your organisation can move forward in your diversity and inclusion work and create a place where every employee feels a sense of belonging. I'm happy to say that we have that at Quickspin. 
As you can probably tell, we care deeply about Diversity & Inclusion at Quickspin, which is one of the reasons we won 'Company of the Year' at the Women in Gaming Diversity Awards 2021 – a very prestigious award that we were incredibly proud to receive! 
Read more: 
We won the prestigious award Company of the Year